Wildlife lovers are being encouraged to take a "torchlight safari" to patches of late-flowering ivy to spot rare migrant moths which are flocking to the UK.
Unusual moths from Europe including the scarce silver-striped hawk-moth and Radford's flame shoulder have been seen in recent days, along with immigrant species such as the convolvulus hawk-moth and the humming-bird hawk-moth.
And the Clifden nonpareil – a moth which has recently become established from Dorset to Kent – has seen numbers boosted by dozens of immigrants from the continent.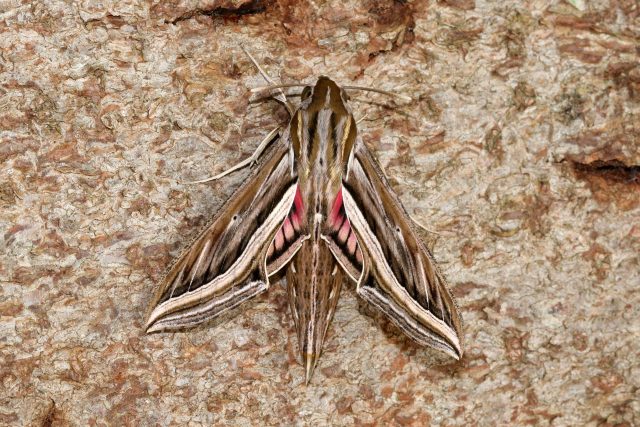 The scarce silver-striped hawk-moth (Roger Wasley/Butterfly Conservation/PA)
As part of this year's Moth Night, an annual UK-wide event to record moth numbers, members of the public are being asked to check out patches of ivy after dark to count moths and help gather more information on the plant's importance to the insects.
Ivy can provide a lifeline to moths, butterflies, bees and other pollinators as it flowers late in the year when other sources of nectar are not available, conservationists said.
And with warm weather from the continent expected in the next few days, a surge of migrant moths could join the autumnal species such as the pink-barred sallow and lunar underwing regularly seen refuelling on ivy blossom.
Want to take part in National #MothNight in Snowdonia National Park?

Find out how you can on Saturday, 14 October: https://t.co/K6nyPMc6Ht pic.twitter.com/63IPHcxtJq

— BC (@savebutterflies) October 11, 2017
Common migrant species such as the silver Y moth could be seen feeding on ivy nectar to power flights southwards to warmer climates while ivy could also be important to overwintering moths such as the buttoned snout and red-green carpet to help build up fat reserves.
Moth Night is organised by Atropos, Butterfly Conservation and the Centre for Ecology and Hydrology (CEH).
Butterfly Conservation head of recording, Richard Fox, said: "A quick check of ivy blossom on a sunny autumn day will reveal bees, hoverflies, butterflies and other insects, all making the most of this seasonal bonanza of nectar.
"After dark, the pollinator nightshift takes place and a myriad of moths come out to feed.
Take part in a fantastic joint #MothNight event with @BC_Lancs and @Lancswildlife in Merseyside on Sat 14 October!https://t.co/k0zZ3lM3za pic.twitter.com/QcJuPlFmYX

— BC (@savebutterflies) October 10, 2017
"For this year's Moth Night, find some big patches of ivy flowers nearby and go back with a torch after the sun has set. It's a fantastic and easy way to see some of the beautiful moths that are on the wing in autumn."
Atropos editor Mark Tunmore said ivy tended to be an undervalued natural resource that people felt needed tidying away in the garden.
"Ivy offers valuable nectar for insects, shelter for bats and nesting birds, as well as a source of berries for small mammals and birds. It is also an attractive plant in its own right," he said.
CEH ecologist Marc Botham said: "There are a fantastic range of autumnal moths in the UK, a number of which are declining."
He said they provided food for other animals, including those feeding up ahead of winter, and the Moth Night survey would help provide data on how some of these species were faring.
:: Moth Night 2017 runs from October 12 to 14 and includes moth trapping events across the UK.