Boris Johnson has said it is time to "put a tiger in the tank" of Brexit negotiations, after Brussels' chief negotiator quashed hopes of trade talks beginning next week.
In a significant setback for Theresa May, Michel Barnier said a "disturbing" deadlock over the size of Britain's exit bill means he cannot recommend moving on from divorce talks to discussions about future trade relations when leaders of the 27 remaining EU states meet in Brussels on October 19.
Brexit Secretary David Davis made it clear that the UK will press the other EU leaders to broaden Mr Barnier's remit, allowing him to begin exploring the nature of a transition to the future UK/EU relationship before finalising details of the withdrawal agreement.
And the Foreign Secretary said it was time for the EU to show greater urgency in the process which is due to lead to Britain's departure from the bloc in March 2019.
Mr Johnson told a London press conference that Britain wanted to "get on with it to the next phase", adding: "We are looking for some urgency from our friends and partners and it's time, I think, to put a bit of a tiger in the tank and get this thing done."
Mr Barnier said no great steps forward had been made in four days of divorce negotiations this week.
"We worked constructively. We clarified certain points. Without making massive steps forward" @MichelBarnier #Brexit https://t.co/xVihF1CvCr

— European Commission (@EU_Commission) October 12, 2017
At a press conference with Mr Davis in Brussels, he revealed that the size of the UK's Brexit bill had not even been the subject of negotiations, after Britain refused to put a figure on the amount it was prepared to pay.
"On this issue, we have reached a state of deadlock which is very disturbing for thousands of project promoters in Europe and it's disturbing also for taxpayers," said Mr Barnier.
And he added: "On this basis I am not able in the current circumstances to propose next week to the European Council that we should start discussions on the future relationship."
Watch David Davis closing the fifth round of negotiations to forge a new partnership with the EU pic.twitter.com/z22PrSXNei

— Exiting the EU Dept (@DExEUgov) October 12, 2017
His recommendation makes it all but certain that trade talks will be delayed at least until the end of the year, and will heighten pressure on the UK Government to make preparations for a possible "no-deal" Brexit.
The pound tumbled on the news, slumping 0.6% against the dollar to 1.31. Sterling also dropped 0.6% against the euro to 1.10 euro.
But Mr Davis urged EU leaders to change Mr Barnier's negotiating mandate at next week's summit to allow both sides to "talk about the future".
David Davis and Michel Barnier during the fifth round of negotiations for our new partnership with the EU pic.twitter.com/iQpNgLHN1J

— Exiting the EU Dept (@DExEUgov) October 10, 2017
"I hope the leaders of the 27 will provide Michel with the means to explore ways forward with us on that and build on the spirit of co-operation we now have," said the Brexit Secretary.
And a Downing Street spokesman said: "We've been clear that we want to move on to discussions on the implementation period and our future relationship. We hope the EU27 now give Michel Barnier the means to open up discussions to allow the momentum we've established to continue."
Mr Barnier held out the prospect of "decisive" progress in the Brexit talks by the time of the European Council summit scheduled for December 14-15.
Remoaner Hammond used to talk sense on the European Union.

What happened, Phil? pic.twitter.com/Y6WsvTEEMy

— LEAVE.EU ???????? (@LeaveEUOfficial) October 12, 2017
But he insisted the EU would not make "concessions" on its key priorities of the rights of EU citizens living in the UK post-Brexit, the status of the Irish border and the UK's "divorce bill".
And he insisted he did not want to abandon his plan of waiting until "sufficient progress" is made on divorce issues before moving on to the future trade relationship.
"To make a success of the negotiations we have got to do things in the right order," said Mr Barnier. "That is a condition of success. If we mix everything up, there are risks."
EU27 is not working on "no deal" scenario. We negotiate in good faith and hope for "sufficient progress" by December. #Brexit

— Donald Tusk (@eucopresident) October 10, 2017
Speaking during a visit to the North West, Mrs May said: "There has actually been good progress made in these talks and Michel Barnier himself has recognised that over the coming weeks we will be able to make constructive progress as well."
Labour said the deadlock "increases the chances that Britain will crash out of the EU without a deal".
In a letter to Mr Davis, shadow Brexit secretary Sir Keir Starmer called on him to seek an additional round of emergency talks to try for progress before next week's summit.
READ: @Keir_Starmer's letter to David Davis calling for an additional emergency round of talks with EU negotiators to end #Brexit deadlock pic.twitter.com/WHWsddzNFC

— Shadow Brexit Team (@ShadowBrexit) October 12, 2017
"The Government must recognise the gravity of the situation," said Sir Keir. "They must drop their ideological red lines and work round the clock to find a resolution to the current situation."
CBI director general Carolyn Fairbairn said talk of deadlock was deeply concerning for UK businesses.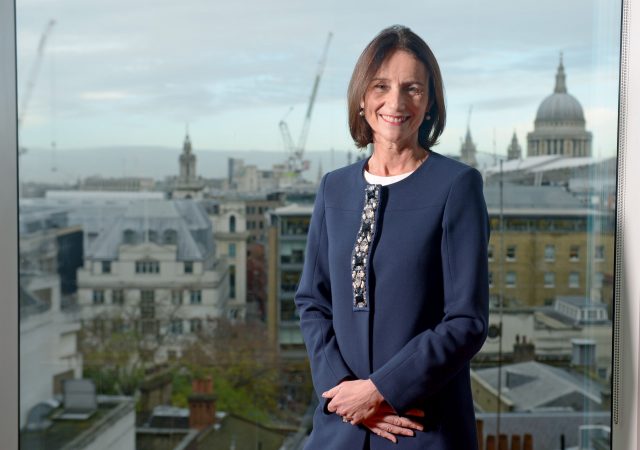 CBI director general Carolyn Fairbairn is concerned by the lack of progress (Anthony Devlin/PA)
Responding to Sir Keir's demand for additional emergency talks, Mr Davis said the key to progress was not a question of time or effort but opening up the discussion to look at the future.
"I hope you will join me in impressing on the EU27, when they meet at the October European Council next week, the importance of allowing Mr Barnier the ability to make progress," said Mr Davis in a letter to his Labour shadow.
"If you are prepared to spell out exactly how much taxpayers' money you think we should offer the European Union in order to progress talks, or set out what role you see for the European Court of Justice after we leave the European Union, I would be happy to engage on your points in detail."