Police have fired tear gas in clashes with protesters, while stoppages halted ferries and disrupted public transport, as unions stepped up protests against a new austerity bill that will limit the right to strike and speed up property foreclosures.
More than 8,000 protesters joined a demonstration in central Athens as walkouts hit transport across the capital.
At the end of the rally, police clashed with protesters on the steps of parliament. No arrests or injuries were reported.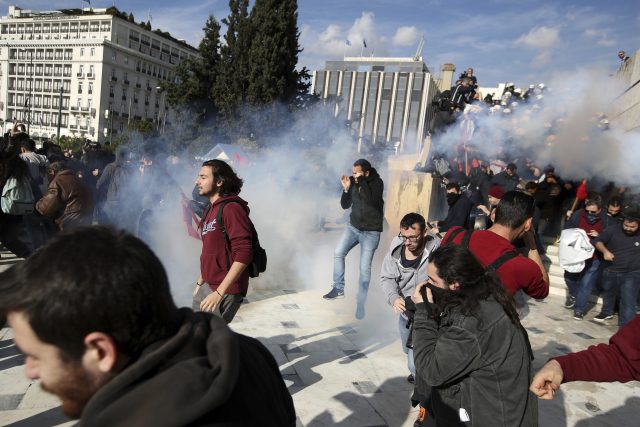 The austerity bill, to be voted on next week, is considered to be potentially the last major package of cuts before Greece heads towards the end of the bailout programme in August.
Giorgos Perros, a senior member of the Greek Communist Party and a lead organiser of Friday's rally, promised to intensify protests ahead of Monday's vote.
"Let them vote for whatever they like. We won't stop," he said.
Amid a collapse in confidence, Greece lost the ability of raising money in international bond markets in 2010, but after years of budget restraint there are hopes that the country's economy faces a brighter future.
The yield on the country's 10-year bond has dropped below 4%, its lowest in more than a decade – a clear sign that investors are more hopeful about Greece's economic prospects.
Under the draft law, unions will require a larger number of members at a strike vote for the protest to be considered legal.
Government spokesman Dimitris Tzanakopoulos described the proposed change as minor.
"This does not affect (umbrella) unions and it does not change the process followed to called strikes."
More union protests are planned for Monday, including a three-hour stoppage by air traffic controllers, set to halt flights between 12pm and 3pm local time.
Public transport and hospital workers are also planning strikes and stoppages.