A new tax on sugary soft drinks is now in force across the UK.
Here are the answers to some key questions about the levy and what it means for manufacturers and consumers.
– What is the sugar tax?
From April 6, soft drinks companies will be required to pay a levy on drinks with added sugar.
– Why are the Government introducing the tax?
The move aims to help tackle childhood obesity. Sugar-sweetened soft drinks are now the single biggest source of dietary sugar for children and teenagers.
It is hoped the tax will encourage drinks companies to cut down on the amount of sugar in drinks, and consumers to choose lower sugar alternatives.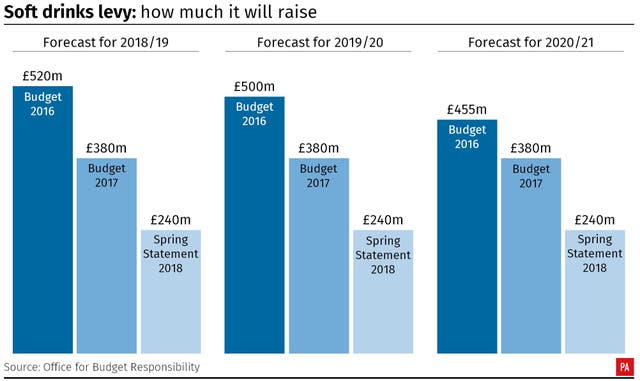 – How much is the tax?
Companies will have to pay 18p per litre of drink if the product contains more than 5g of sugar per 100 millilitres and 24p per litre if it contains 8g of sugar per 100 millilitres.
Prices of popular drinks may rise and the size of portions shrink as a result.
– Will it apply to all drinks?
The new levy will not be paid on milk-based drinks and fruit juices.
However George Osborne, who unveiled the tax policy as chancellor, has predicted that the tax will be extended to include milkshakes with large quantities of sugar.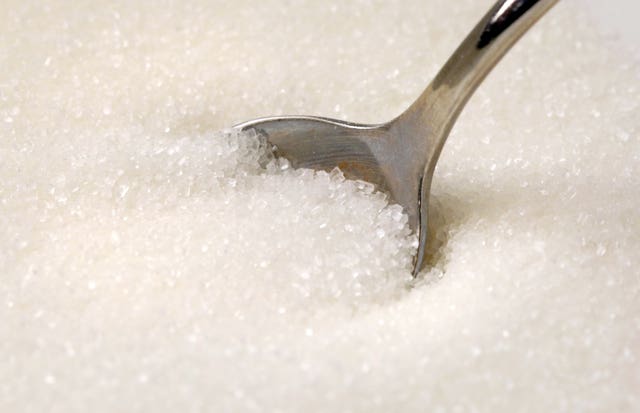 – Will the tax work?
The Government has said the tax is already working, with over 50% of manufacturers reducing the sugar content of drinks since the levy was announced in March 2016.
The expected amount of revenue from the tax in the first year has declined from £520m to £240m.
– What products will be affected?
Original Pepsi, Coca-Cola Classic, Red Bull and Sprite are among those which will be affected by the tax, but sugar-free drinks such as Diet Coke and Coca-Cola Zero will be exempt.
– Which brands have reformulated?
Tesco has reformulated all of its own-label soft drinks to come in below the threshold for the levy, as have Morrisons, Asda and The Co-op.
Irn-Bru is one of the big name brands to change its recipe, cutting the sugar in a can from 8.5 teaspoons to four despite a consumer backlash and reports that fans were stockpiling cans and bottles of the original.
– What will the proceeds of the tax be used for?
The money will help fund healthy school breakfast clubs and be reinvested in sport in schools.
If revenue from the levy drops, the Government said funding for schools and children will stay the same.
– Is the Government the first in the world to introduce such a tax?
No – other countries have experimented with sugar taxes. Scandinavian countries have imposed similar taxes, as have France and Hungary.
In 2014 Mexico also introduced a sugar tax levy on soft drinks.