Donald Trump has said an apparent poison gas attack in Syria will be "met forcefully" hours after Russia warned US military action could cause "grave repercussions".
The US president met with his military leaders in Washington on Monday night to discuss the response to the "horrible attack" on Douma, saying a decision would be made "tonight or very shortly thereafter".
Mr Trump did not give a time frame for any retaliatory action, but said the US could not stand by as such atrocities take place because "we are able to stop it".
"We are the greatest fighting force anywhere in the world," Mr Trump told reporters at the White House.
"We are making a decision as to what we do with respect to the horrible attack that was made near Damascus, and it will be met forcefully, and when I'm not saying because I don't like to talk about timing."
READ MORE: FBI raid Trump's lawyers offices and seize documents relating to porn star Stormy Daniels
The president's comments came after Moscow's ambassador to the UN warned of the potential consequences to Western intervention in Syria.
Vassily Nebenzia said US attacks on Syria "could lead to grave repercussions" during heated exchanges at the UN Security Council.
US ambassador Nikki Haley accused Russia of having "the blood of Syrian children" on its hands after Mr Trump said that "nothing's off the table" in dealing with the alleged outrage.
Mr Nebenzia dismissed claims the Syrian regime had used chemical weapons as "fake news" as he called for inspectors from the Organisation for the Prohibition of Chemical Weapons to fly to Syria on Tuesday to visit the site of the alleged attack.
Ms Haley urged the UN to take action, but stressed whether it acts or not "either way, the United States will respond".
She added: "Meetings are ongoing. Important decisions are being weighed, even as we speak."
Prime Minister Theresa May said that the UK was considering what action was necessary in response to the "barbaric" attack which has left at least 40 people, including children, dead.
Asked if the UK would join any US-led military action in Syria, Mrs May said during a visit to Sweden: "What we are currently doing is working urgently with our allies to assess what has happened here.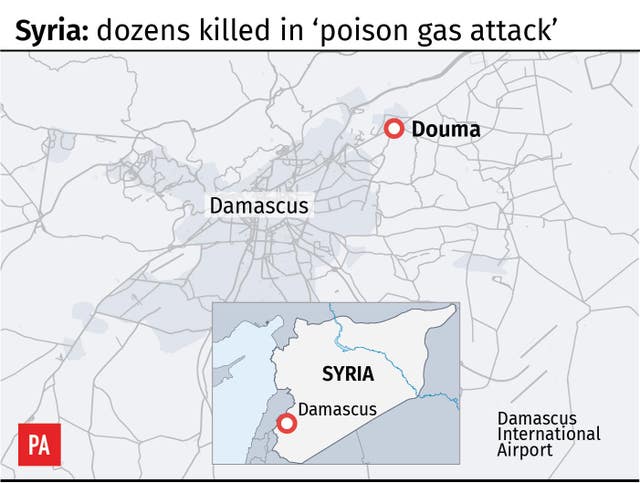 "We … are working urgently with our allies to asses what has happened. But, we are also working with our allies on any action that is necessary."
Mrs May sidestepped a question on whether Parliament would be recalled from recess to debate any military intervention.
Tory former foreign secretary Lord Hague said he had "little doubt" that if he was still in office he would recommend military action in Syria.
Lord Hague, who was foreign secretary when then prime minister David Cameron lost a Commons vote he wanted to back action in Syria, said the aftermath of the defeat left the UK "enfeebled spectators of one of the most destructive conflagrations of our time".
The newspaper quoted an unnamed Government minister urging the PM to take direct action rather than risk a new Commons vote, saying: "Why would we want to open that Pandora's box again? There's no need to go to there, the Prime Minister should take direct action then go to Parliament afterwards."
READ MORE: FBI raid Trump's lawyers offices and seize documents relating to porn star Stormy Daniels
Mr Trump said the US is still investigating the possible involvement of the Iranian and Russian governments in the apparent strike on Douma.
"If it's Russia, if it's Syria, if it's Iran, if it's all of them together, we'll figure it out," he said.
He added of Russian president Vladimir Putin, "everybody's going to pay a price – he will, everybody will".
Foreign Secretary Boris Johnson said in February that Britain should consider joining military action against Assad's regime if there is fresh "incontrovertible" evidence he has used chemical weapons against his own people.
Mr Johnson discussed the situation with acting US secretary of state John Sullivan twice on Monday.
The US State Department said Mr Johnson and his Washington counterpart had discussed "potential further steps the US and UK governments might take in coordination with other partners".
The attack in Douma occurred late on Saturday amid a resumed offensive by Syrian government forces after the collapse of a truce with the Army of Islam rebel group.
Syrian opposition activists and rescuers said poison gas was used on the rebel-held town near the capital, an allegation strongly denied by the Assad government.
Families were reportedly found suffocated in their homes and shelters, with foam on their mouths.
READ MORE: FBI raid Trump's lawyers offices and seize documents relating to porn star Stormy Daniels
Reports suggested more than 500 people, mostly women and children, were brought to medical centres with difficulty breathing, foaming at the mouth, and burning sensations in the eyes.
The attack comes almost exactly a year after a chemical atrocity in the northern Syrian town of Khan Sheikhoun killed dozens of people.
That attack prompted the US to launch several dozen Tomahawk cruise missiles at a Syrian air base.
Russia and Syria have blamed Israel for an attack on a Syrian military airport on Monday that reportedly killed at least 14 people.