A 17-year-old boy with a shotgun and revolver has killed 10 people and injured 10 others at a Texas high school, authorities say.
The suspected gunman, who is in custody, also had explosive devices, including a Molotov cocktail, that were found in the school and nearby, said governor Greg Abbott.
He said the assault was "one of the most heinous attacks that we've ever seen in the history of Texas schools".
The governor said the assailant intended to kill himself but gave up and told police that he did not have the courage to take his own life.
A law enforcement official identified a person in custody over the shooting as Dimitrios Pagourtzis, 17.
It was the nation's deadliest such attack since the massacre in Florida that gave rise to a campaign by teens for gun control.
Another 10 people were wounded at the school in Santa Fe. One hospital reported treating eight wounded patients. Six were treated and released.
One was listed in a critical condition and another in fair condition.
The shooting was all but certain to re-ignite the national debate over gun regulations, coming just three months after the Florida attack that killed 17 people at Marjory Stoneman Douglas High School.
"It's been happening everywhere. I've always kind of felt like that eventually it was going to happen here too, so," Santa Fe student Paige Curry told Houston television station KTRK.
"I don't know. I wasn't surprised. I was just scared."
Michael Farina, 17, said he was on the other side of campus when the shooting began and thought it was a fire drill. He was holding a door open for students in wheelchairs when a principal came rushing down the hall telling everyone to run. Another teacher yelled: "It is real!"
Students took cover behind a car shop across the street from the school. Some still did not feel safe and began jumping a fence to run even further away, he said.
"I debated doing that myself," he said.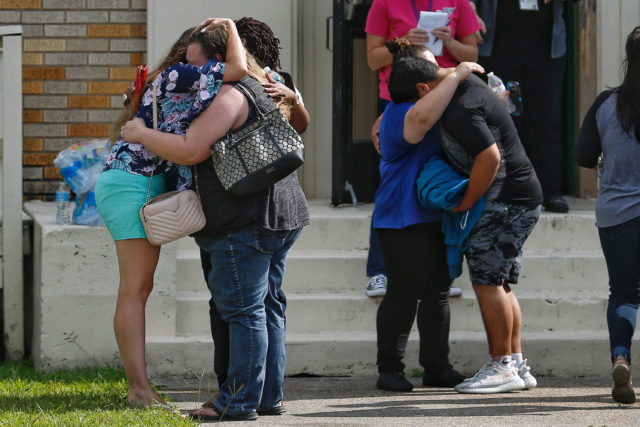 A woman who answered the phone at a number associated with the Pagourtzis family declined to speak.
"Give us our time right now, thank you," she said.
Pagourtzis, who is charged with murder, plays on the Santa Fe High School junior varsity football team, and is a member of a dance squad with a local Greek Orthodox church.
Acquaintances described him as quiet and unassuming, an avid video game player who routinely wore a black trench coat and black boots to class.
The suspect used a shotgun and .38 revolver obtained from his father, who owned them legally, Mr Abbott said. It was not clear whether the father knew his son had taken them.
One or two other people of interest were being interviewed about the shooting, Mr Abbott said.
Senior Logan Roberds said he was near the school's art room when he heard a fire alarm and left the building with other students. Once outside, he heard two loud bangs. Then came three more bangs.
"That's when the teachers told us to run," he said.
At that point, Roberds said, he told himself: "Oh my God, this is not fake. This is actually happening."
One student told KTRK in a telephone interview that a gunman came into her first-period art class and started shooting. The student said she saw one girl with blood on her leg as the class evacuated the room.
"We thought it was a fire drill at first but really, the teacher said, 'Start running,'" the student told the television station.
The student said she did not get a good look at the shooter because she was running away. She said students escaped through a door at the back of the classroom.
The calls for tighter gun controls that have swelled since February have barely registered in gun-loving Texas — at least to this point.
Texas has some of the most permissive gun laws in the US and recently hosted the NRA's annual conference earlier this month.
US vice president Mike Pence vowed the administration would not relent until schools were made safe again.
He tweeted: "This is another heartbreaking day for students and parents in Santa Fe and all across the Nation.
"I promise you this: We will not rest, we will not relent until we end this evil in our time and we make our schools safe again."