A violin maker has crafted a violin from driftwood to help raise awareness about the environment and the plight of the oceans.
Steve Burnett found the poplar log on a beach in East Lothian two years ago and recently finished making the instrument.
It was unveiled this week ahead of World Oceans Day on June 8 and was played for the first time in the sea at Yellowcraigs beach, East Lothian, by musician Thoren Ferguson.
The violin is being endorsed by the Marine Conservation Society (MCS) and will be taken to schools and communities as well as being used at events to highlight environmental issues.
The instrument, which Mr Burnett has named Il Mare (Italian for the sea), is inscribed inside with the words "A voice from, and for the sea".
Mr Burnett said: "I've been looking for a suitable piece of wood for about 20 years every time I've been down at the beach and it was only two years ago on a walk with my son when I spotted a large tree trunk that had been many many years at sea and was really well worn by the sea's hand, and I had this feeling this is it, I could sense the violin was inside that log, there was an immediate connection.
"I was hoping to get it finished more quickly but I was working on other projects alongside it. The violin is an environmental statement, I feel I am able to give trees a voice."
Mr Burnett, who describes himself as a "sculptor of wood and sound", has made several violins with historical connections including three in honour of renowned First World War poets Wilfred Owen, Siegfried Sassoon and Robert Graves which he crafted from a tree in the grounds of a shell-shock treatment hospital.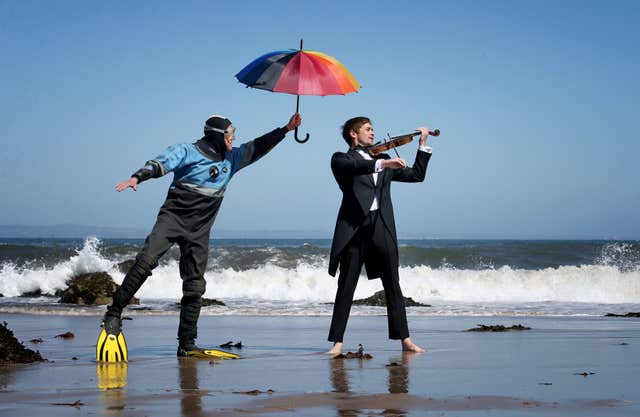 Calum Duncan, head of conservation Scotland for the Marine Conservation Society, first met Mr Burnett nine years ago when his Sherlock violin, made from a sycamore that grew in the childhood garden of Sir Arthur Conan Doyle, was played in a concert for the sea at Greyfriars Kirk.
Mr Duncan said: "Fast forward to last year and we were very excited to hear that Steve's twenty-year search for the right piece of driftwood to make a violin from had ended and, having found it on the East Lothian coastline, he wanted to make it and for it to help MCS and others raise awareness of the plight of our seas and the need to recover them.
"Now, with the violin complete, and hearing how beautiful it sounds, we are very proud to be working with Steve again and look forward to helping the 'Il Mare' violin be 'the voice from the sea for the sea' to raise awareness of Scotland's amazing seas, the pressures they face and what everyone can do to help restore them back to health."