Nigel Farage's new Brexit Party is set to triumph in the European elections, according to a poll which also forecasts an historic thrashing for the Tories.
The YouGov survey for the People's Vote campaign also showed a collapse in support for Ukip, which Mr Farage and most of his fellow MEPs have abandoned over its lurch to the far-right.
The UK-wide poll put the Brexit Party on 27 per cent, Labour on 22%, and the Conservatives on 15%, which would be the worst national result in Tory history.
Ukip is facing a wipeout on just 7%, half its support of just a few weeks ago.
Among the pro-Remain parties, the Greens led on 10%, the LibDems are on 9%, and Change UK party on 6%.
At the 2014 EU election, Ukip won 24 of the UK's 73 MEPs with 27.5%.
Other polls show the SNP leading in Scotland ahead of the Tories and Labour.
READ MORE: Nigel Farage launches new Brexit Party ahead of European elections
The elections are due to take place on May 23 unless Theresa May can strike an agreement with Labour on Brexit, or MPs compromise on their own model, neither of which appears likely.
It was reported last night that the PM might prolong the current parliamentary session, which is meant to end in June, to force MPs to concentrate on Brexit.
However, it would mean delaying the Queen's speech setting out the next legislative programme, a move which could further antagonise the MPs the Prime Minister needs to pass her deal.
It also emerged grassroots Tory activists are trying to oust Mrs May by deploying arcane party rules.
Constituency chairs, appalled at the six-month Brexit delay and having to fight the EU poll, are trying to hold an emergency party summit.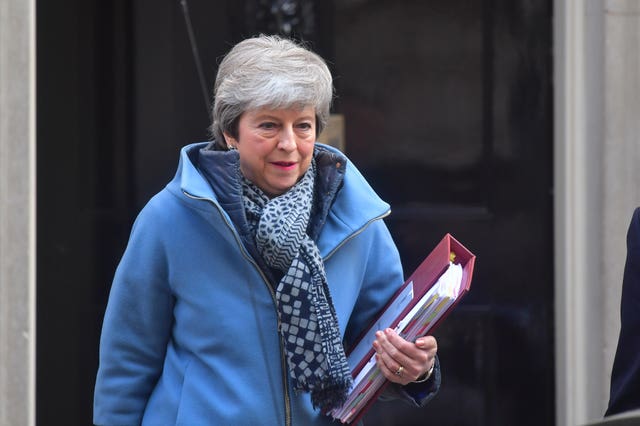 If 65 Tory chairs call for it, party HQ must hold an extraordinary general meeting of the National Conservative Convention – a members' body of 800 senior party officers.
This would then hold a no-confidence vote which, although not binding, would add to the pressure on Mrs May to quit.
Petition organiser Dinah Glover, chair of the Conservatives' London East area, said: "It's a snowball, we will definitely meet the numbers and exceed it. It has been building for a lot of people. People were particularly angry when it became apparent that we were not leaving on 29 March, that was a very low point when we lost members.
"Taking part in the EU elections is also a very physical reminder that Brexit has not been delivered. It is a very public humiliation, as is going into negotiations with Jeremy Corbyn."

READ MORE: Anti-Brexit campaigners troll Nigel Farage by 'squatting' on new party website
Also under pressure to quit, but determined to remain until Brexit is over, is Commons speaker John Bercow.
Accusing him of pro-Remain "bias", the Brexiter Tory MP Crispin Blunt said he would table a no confidence motion in him when recess ends next Tuesday.
He said he there was much to admire about Mr Bercow's tenure, but claimed he was no longer acting impartially. The Speaker's Office declined to comment.
The Brexit party officially launched only last week, but has repeatedly outplayed Ukip, stealing the limelight with a string of defections and announcing Annunziata Rees-Mogg, the sister of Tory Brexiter MP Jacob Rees-Mogg, as a surprise candidate.
The poll suggested that if Labour swapped its policy of a soft Brexit for a second referendum, it would marginally increase its support.
But if Labour persisted in supporting Brexit, despite the opposition of most of its members, its support would slump to 15%, with votes surging to the LibDems.
Former Labour foreign secretary Dame Margaret Beckett, who has promoted a People's Vote in the Commons, said the Brexit Party would win if Labour tried to hedge its bets.
She said: "These elections have proven to be rich hunting grounds for Nigel Farage's brand of extreme right wing politics before and may be again.
"The message of this poll is loud and clear: it suggests that if anyone can stop Farage winning it is Labour – and only if we back a people's vote."
READ MORE: Letters: It is time to call out Farage for what he really is
LibDem leader Sir Vince Cable said the campaign would be transformed if Labour backed the Remain option in a second referendum, though he doubted Mr Corbyn would allow it.
He told BBC Radio 4: "It would be a game changer if they made it absolutely clear that in a referendum campaign they would campaign to remain within the EU."
Former education secretary Justine Greening hinted she might quit the Tories if they become a one-issue Brexit party, telling the BBC: "It's certainly a challenging time I think for me to be in the Conservative Party. For me it was about three things: it was about opportunity, a strong economy and well-managed public finances.
"And clearly I think if we become the Brexit party that really goes against those three core tenets of what I think being a Conservative Party member is all about."
Deputy Labour leader Tom Watson called for a judicial inquiry into the activities of the Leave.EU campaign before the 2016 referendum, after Channel 4 News claimed it faked a viral video about the ease with which migrants could cross the Channel.
Channel 4 said GPS logs showed the boat used in the exercise had moved between ports in Kent, and the British nationals who posed as migrants in the film, were never in France.
Mr Watson tweeted: "We cannot allow those who cheat and lie to mock and subvert our democracy (using millions from who knows where) to prevail".
Leave.EU backer Arron Banks and his close aide Andy Wigmore said they would welcome such an inquiry.