The overwhelming majority of Scots do not want a second independence referendum on Nicola Sturgeon's timetable, according to a new poll.
In a blow to the First Minister's plan for a fresh vote by 2021, only one in five said they wanted to revisit the No result of 2014 within two years.
But the Survation survey for the Scotland in Union group also included far more positive news for the First Minister.
It found that if there was a general election tomorrow, the SNP would win almost as much of the vote as Labour and the Tories combined, and pick up 51 of Scotland's 59 seats.
The poll also found 61 per cent of people want Scotland to stay in the UK, and only 39% want out of the Union, although the question was couched in terms of Leave and Remain, rather than the more familiar Yes or No to independence.
READ MORE: Nicola Sturgeon jokes she would personally 'dingy' President Donald Trump
Ms Sturgeon announced on Wednesday she intended to introduce a framework bill for a fresh referendum at Holyrood, and would ask MSPs to pass it be the end of the year.
She said it would allow Scotland to protect its interests if Brexit took place, but admitted it would require a transfer of power from Westminster, a so-called Section 30 order, before a legally watertight referendum could take place.
With the UK Government refusing to grant a Section 30 order, the Tories dubbed it a "bill to nowhere".
Theresa May's deputy David Lidington yesterday restated the Government's opposition at a cyber security conference in Glasgow.
The Cabinet Office Minister said: "We don't see any evidence there is a demand from the people of Scotland for a revisit of the decision they took in 2014. That referendum was something the First Minister and her colleagues said at the time would settle matters for a generation. We don't see that a Section 30 Order is called for.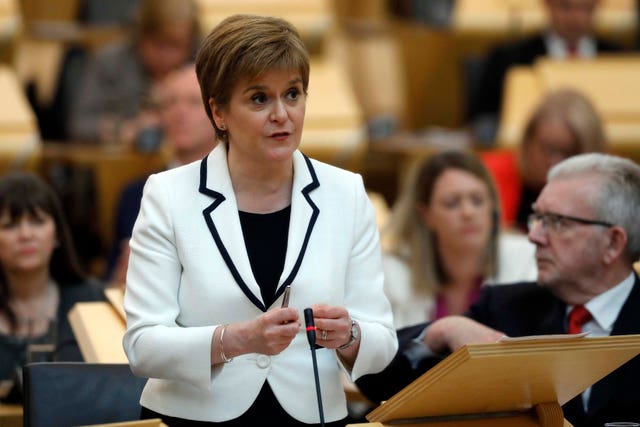 "I don't see that is going to help put right Scottish schools and Scottish hospitals."
Ms Sturgeon's plan was also savaged by former SNP justice secretary Kenny MacAskill, who said anyone who believed it would make Indyref2 happen soon was "delusional".
In an article for the Scotsman, Mr MacAskill said the plan's purpose was appeasing SNP activists at this weekend's party conference, who are impatient for action on independence.
He wrote: "Holding another referendum's problematic and those expecting an immediate poll delusional. The talk of a poll before 2021 initially sounds positive but it's heavily caveated and restricted by other factors.
"Will the UK have resolved its EU position by then? If that has been settled, can a poll even be carried out in time? But it allows [the FM] to reassure the party this weekend that she's undaunted and the light undimmed."
Ms Sturgeon also announced a Citizens' Assembly to consider Scotland's future this week.
READ MORE: Scottish independence: How European media reacted to Nicola Sturgeon's indyref2 update
Her Brexit Secretary Michael Russell told MSPs he hoped to publish details of the Assembly and the bill by the end of May.
Although Ms Sturgeon said the reason for the referendum was to offer Scots a way out of Brexit, Finance Secretary Derek Mackay refused to rule out pushing ahead with it even if Brexit was cancelled.
Asked on Radio Scotland if the SNP would take the referendum off the table if its Brexit-based mandate no longer existed, he said: "What we're saying is Scotland should have the right to choose. We should keep our options open."
Ms Sturgeon's official spokesman also refused to discuss the Government's plans if Brexit was cancelled, saying it was premature to do so, despite the new bill in case Brexit isn't cancelled.
The Survation online poll, which surveyed 1012 Scottish adults between April 18 to 23, found 34% of people thought there should "never be another Scottish independence referendum" – the most popular answer.
Another 17% thought there should be one at some stage but not for at least 10 years, 9% said it should be held in five to 10 years, 10% in two to five years, and 8% undecided.
Ms Sturgeon's timescale on within two years was supported by 21% of respondents.
Asked how they would vote in a referendum with the question "should Scotland remain in the United Kingdom or leave the United Kingdom?" 61% said Remain and 39% Leave.
The poll also found 43% of respondents thought leaving the UK would be worse for Scotland's economy than Brexit would, while 30% thought it would be better than Brexit.
A further 14% said it would be no better or worse and 13% said they did not know.
Asked their top three priorities, 71% said the NHS, 38% said the cost of living, 37% the economy, 35% education, and 9% constitutional affairs and independence.
READ MORE: UK won't allow second Scottish independence referendum - David Lidington
Asked how they would vote in a Westminster election tomorrow, the SNP was backed by 41%, Labour 24%, the Tories 22%, and the LibDems 8%.
The Electoral Calculus website said the numbers would translate into 51MPs for the SNP (up 16 on 2017), the LibDems four (no change), the Tories three (-10) and Labour one (-6).
Former Labour MP Pamela Nash, the chief executive of Scotland in Union, said:
"This bombshell poll proves Nicola Sturgeon is refusing to listen to the people of Scotland.
"In a hammer blow for the SNP, only one-fifth of voters want a divisive second independence referendum within two years, and over half say there shouldn't be one for at least a decade.
"It's no surprise that support for leaving the UK has fallen to below 40%, with many former Yes voters changing their minds.
"They have seen how difficult the Brexit process has been and know we are stronger together.
"The people of Scotland want Nicola Sturgeon to get back to her day job and focus on fixing our hospitals, schools and the economy, and to drop her obsession with breaking up the UK."
Depute SNP leader Keith Brown said his party's 19-point poll lead over the Tories was the largest since 2017, and called it a "spectacular boomerang" for Scotland in Union.
He said: "This poll has backfired in spectacular style for Scotland in Union, who are clearly running scared of giving people in Scotland the choice over their future. The SNP meets for our spring conference with the wind in our sails, while the Unionist parties continue to languish in the political doldrums.
"We're 19-points clear of the Tories as we stand up for Scotland against the damage that their Brexit plans will inflict on jobs and our NHS. They've slumped into a dismal third place behind a beleaguered Labour party.
"This poll shows that almost two thirds of people back another referendum and that a majority think Scotland would be better off or no worse off with independence. That's a great vote of confidence in the benefits of taking our future into our own hands.
"Despite their best efforts in employing a skewed question on support for independence conducted before the First Minister's announcement this week, Scotland in Union have done us a huge favour."
He said this weekend's conference would be a campaign event for the EU elections on May 23.
He said: "This conference will put us on campaign footing, with a vote for the SNP a vote to make clear that Scotland says no to Brexit.
"With the full powers of independence we can do so much more – and conference will debate the economic foundations of an independent Scotland as we build for tomorrow.
"Scotland's future lies in Europe – and people in Scotland should be given a choice between independence and Brexit."
Conservative MSP Maurice Golden said: "No matter what the SNP says, support for independence simply hasn't risen since the 2014 vote.
"That's all the evidence Nicola Sturgeon should need to take this threat off the table.
"But instead she ploughs on, ensuring Scotland is subjected to yet more division and uncertainty.
"A responsible Scottish Government should be seeking to bring the country together, not drive another wedge through it."