FORMER SNP MP Natalie McGarry has lost a bid to withdraw pleas of guilty over embezzling more than £25,600 from pro-independence organisations.
Natalie McGarry, 37, pleaded guilty to two charges of embezzlement when she appeared at Glasgow Sheriff Court on April 24.
She embezzled £21,000 from Women for Independence in her role as treasurer of the organisation.
But when she appeared at Glasgow Sheriff Court, instead of being sentenced, Allan MacLeod, representing McGarry applied to withdraw the plea to a not guilty, claiming there was "undue pressure" on her to admit the offences.
READ MORE: Former SNP MP Natalie McGarry admits embezzling £25,000
But Sheriff Paul Crozier rejected the motion at the end a hearing lasting almost an hour-and-a-half, saying he had "listened very carefully to what was said". He said the court had "bent over backwards" to help her.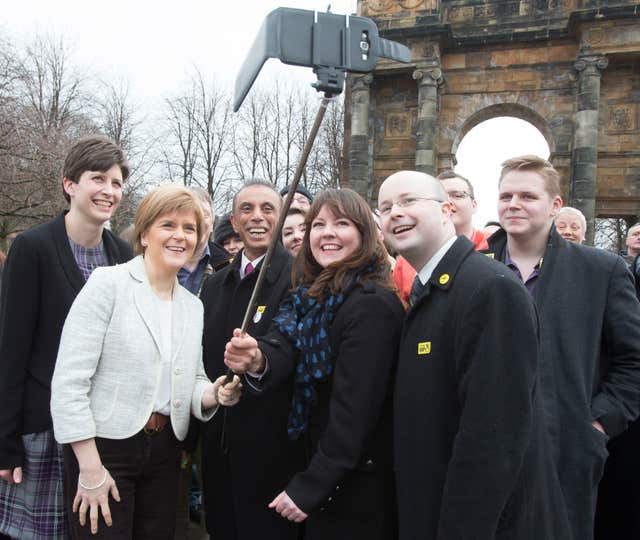 The former MP transferred money raised through fundraising events into her personal bank accounts and failed to transfer charitable donations to Perth and Kinross food bank and to Positive Prison, Positive Future between April 26 2013 and November 30 2015.
McGarry, who represented Glasgow East but did not seek re-election in 2017, also used cheques drawn on the Women for Independence bank account to deposit money into her own account.
She also admitted embezzling £4,661.02 in the course of her role as treasurer, secretary and convener of the Glasgow Regional Association of the SNP between April 9 2014 and August 10 2015.
READ MORE: Former SNP MP Natalie McGarry sacks counsel days before embezzlement trial
The 37-year-old originally faced a third charge of embezzlement and a charge she refused to give police the pass code for a mobile phone they had seized but the Crown accepted her not guilty pleas to those charges.
Mr MacLeod said his motion was on the basis it "was tendered in circumstances which, due to the action of her former solicitor, former counsel and your lordship, she felt she had no choice other than to tender a plea of guilty".
Mr MacLeod said the motion was an "exceptional case" but that there was "clear prejudice to the accused" in that she "felt she had no choice but to enter the (guilty) plea after parting company with her solicitors.
It was claimed a statement of uncontroversial evidence was never properly discussed with McGarry and she had never indicated any acceptance of guilt before that occasion last week.
McGarry represented heself when she appeared in the dock last week.
"Her position to date is that while she accepts that her financial organisation may have been lacking, somewhat haphazard, at no point has she ever accepted that she dishonestly appropriated any of these funds," Mr Macleod told the court.
Mr MacLeod indicated he wanted the sheriff to remove himself from the case, which he later withdrew.
Mr MacLeod said McGarry had said Sheriff Crozier had said, "make no mistake the trial will start tomorrow".
"That informed her decision and affected her process..." said Mr MacLeod. "My submission is this plea was tendered in circumstances that never should have been.
"This can be remedied by your lordship to allow the pleas to be withdrawn."
McGarry wept as Mr MacLeod added that a trial "allows the case to get the proper attention it deserves".
The sheriff warned Mr MacLeod: "Be very careful how you address this. You suggest I recuse myself?"
Mr MacLeod responded saying: "I have done my best not to be critical of anyone. I don't mean to be critical of your lordship."
He said McGarry lived a "very isolated existence" suffering from post-natal depression, is on medication, was seeing a psychiatric nurse and previously arrived in court without legal representation in a "nervous state with anxiety" and felt she had "no alternative" but to plead guilty.
Mr MacLeod said that there were certain evidential aspects of the case which she would "find difficult to prove what happend to certain amounts of money".
He said that she felt that if she had pled not guilty she faced the prospect of a a long trial without legal representation.
"The alternative would be to commence a six week complex trial in relation to matters she was not certain of evidentially. To proceed to trial by herself was overwhelming."
The sheriff said the case had been "ongoing for some time" by the time the pleas were made and that she had been given "a number of opportunities" not to enter a plea.
Sheriff Crozier, before rejecting bid to withdraw the guilty pleas said "there can be no doubt what she was pleading guilty to" saying there had been plenty of discussion taking place.
The motion to withdraw the pleas was opposed by the Crown.
A 23-page narrative of events was due to be read to the court but this was postponed after the defence claimed it contained a "large number of factual inaccuracies".
The case was adjourned till May 10.
She was elected as an SNP member in 2015 but resigned the party whip following the emergence of fraud allegations – which she denied at the time – continuing in Parliament as an independent.
McGarry was charged by police in 2017 over alleged fraud relating to potential missing funds from Women for Independence, which was set up in the run-up to the 2014 Scottish referendum, and the SNP's Glasgow Regional Association.