Scottish Liberal Democrat leader Willie Rennie has accused the SNP of being "astonishingly complacent" over issues at the delayed children's hospital in Edinburgh.
Speaking during a debate on Sky News on Tuesday between representatives of Scotland's four main parties, Mr Rennie took aim at SNP Westminster leader Ian Blackford.
READ MORE: Nicola Sturgeon: NHS waiting times "not good enough"
The Royal Hospital for Sick Children was due to open in the summer before Health Secretary Jeane Freeman was alerted to safety issues hours before it was due to open.
Ms Freeman ordered the hospital to remain closed until it could be made safe and in September ordered a public inquiry into the matter.
The investigation will also look into problems at the Queen Elizabeth University Hospital (QEUH) in Glasgow, which has faced claims water contamination caused the death of a 10-year-old patient.
When asked why the children's hospital in Edinburgh has not opened and whose fault that is, Mr Blackford said: "There's going to be a public inquiry which will address these issues."
Mr Rennie said the hospital remaining closed was not just an issue for parents and patients but a drain on public funds.
READ MORE: Nicola Sturgeon calls out Boris Johnson for 'lying' over Euro interview claim
He said: "Let me just bring some facts into this.
"As a result of decisions of your Government, this hospital in Edinburgh is not just not available to the patients that are desperately needing support but it's costing us £1.4 million every single month.
"And you say that the NHS here is performing better than anywhere else.
"That is astonishingly complacent Ian, I hope you see that."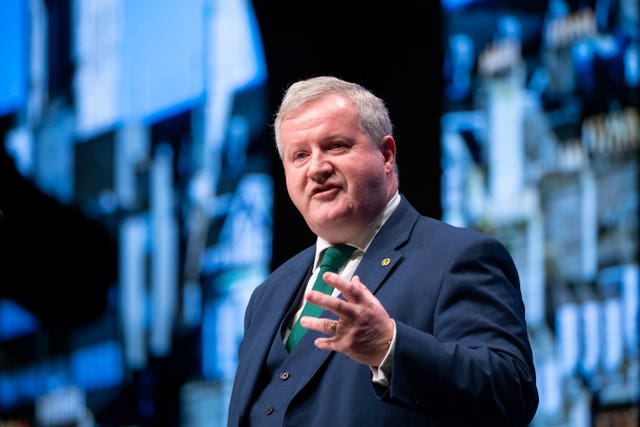 Mr Blackford said: "There is no complacency, we should not be in the position that we are with that, but the harsh reality is, Willie, that the NHS in Scotland is admirable in most cases."
Scottish Labour leader Richard Leonard told the SNP Westminster leader to "take some responsibility" for the hospital remaining closed.
Mr Blackford replied: "We have taken responsibility, that's why we've got a public inquiry.
"It's not right that these hospitals have faced the issues that they have done, but let's deal with them properly.
"We've been open, we've been transparent about that."
Scottish Tory MSP Jamie Greene, representing his party on the panel, demanded Mr Blackford apologise to the people of Scotland for issues at the children's hospital, the Queen Elizabeth University Hospital and the missing of waiting times targets.
He added: "This is a country which has no confidence in the SNP's management of the health service, or indeed the Health Secretary."