Covid vaccines must be shared with poorer nations to prevent richer countries being hit by newly-imported deadly variants, world leaders have been told.
Global bodies – along with MPs and peers – warned of fresh lockdowns if people in developing nations do not get a huge increase in jabs.
READ MORE: Nicola Sturgeon Covid announcement: When is Nicola Sturgeon's update and how to watch live
With vaccines seen as the main escape route from repeated lockdowns to control the pandemic, governments around the world are being urged to do more to ensure those in developing nations can access jabs.
The heads of the World Health Organisation, International Monetary Fund, World Bank Group and World Trade Organisation warned of a "dangerous gap" in the availability of jabs, with low-income nations receiving "less than 1% of vaccines administered so far".
"Inequitable vaccine distribution is not only leaving untold millions of people vulnerable to the virus. It is also allowing deadly variants to emerge and ricochet back across the world," they said in an open letter published in a number of global newspapers, including the Daily Telegraph.
In a separate letter, a cross-party group of more than 100 MPs and peers wrote to the Prime Minister with a similar message, calling for Britain to export more jabs to developing countries in a bid to prevent new variants from wrecking Britain's freedom plans.
Urging Boris Johnson to show "global leadership" in the run-up to the G7 in Cornwall next week, the parliamentarians – including former Archbishop of Canterbury Lord Carey and Tory ex-health minister Dr Dan Poulter – urged him to commit to a one in, one out policy when it comes to vaccines.
For every dose bought for use in Britain, the signatories want the UK Government to donate a dose to the United Nations-backed Covax scheme, which is providing vaccines to low and middle-income countries.
READ MORE: Coronavirus: Warning parts of Scotland face lockdown easing delay
"The longer we wait to act, the more likely it is that dangerous variants could emerge that can evade the protections offered by current vaccines," they told Mr Johnson, in a letter seen by the PA news agency.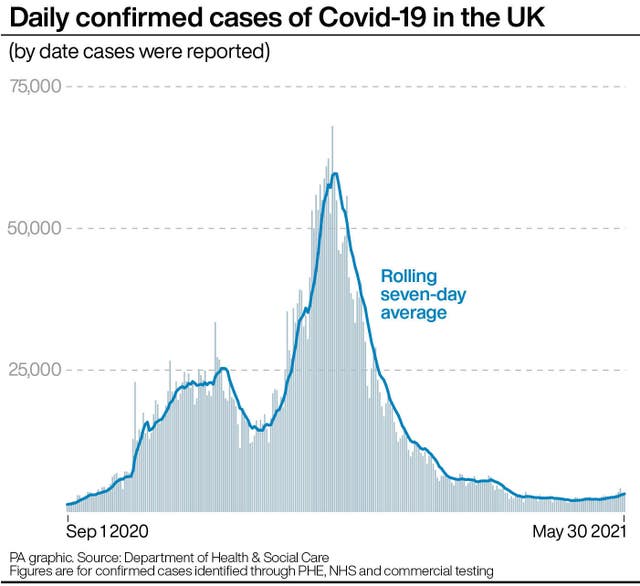 Nicola Sturgeon will today reveal whether Scots will progress to Level 1 restrictions on June 7, as per the Scottish Government's Covid route map.
A move to Level 1, if it goes ahead, would allow up to eight people from three households to meet indoors in pubs, cafes and bars, while up to 12 people from 12 different households could socialise together outside in gardens or outdoor public places.
But with a recent spike in infections forcing ministers to keep the entire Glasgow City Council area under Level 3 restrictions – meaning bars and restaurants can not serve alcohol indoors and get-togethers inside people's homes are also barred – Ms Sturgeon has already warned that the city may "have to be in Level 2 for a couple of weeks before it moves to Level 1".