Fred Wright ended his wait for a professional win in style as he became British men's road champion in Saltburn hours after Pfeiffer Georgi claimed the women's title for a second time.
The popular 24-year-old paid a heartfelt tribute to Bahrain Victorious team-mate Gino Mader, who died on June 16 following a crash at the Tour de Suisse, pointing to the sky as he crossed the line.
"There's lot of emotions," Wright said. "I'm thinking about a lot of things…I just wanted to enjoy the day because that's what bike racing is about. I can't stop getting emotional…
"(Gino) would have believed in me today, more than I would have believed in myself."
Wright earned fans with have-a-go heroics that brought podium finishes from breakaways at the Tour de France and Vuelta a Espana last year, but had somehow still been awaiting victory at the top level.
But after he left behind James Knox and Stevie Williams on the last of 10 laps of a punishing course – including more than 3,500 metres of ascent – there would be no near miss this time.
Knox and Williams are purer climbers than Wright, but the 24-year-old Londoner rode smartly, attacking on the descent to the foot of Saltburn Bank, the short but steep final climb which provided the finale with gradients reaching 22 per cent.
"I was really pleased with the way I rode it," Wright said. "I probably had the best legs of my life out there. I knew that compared to them I had to edge it on the downhill and the flat so I used that to my advantage to use as little energy as possible. It was just all guns blazing to the finish.
"I still can't believe I've got my first professional win, it's a monkey off my back."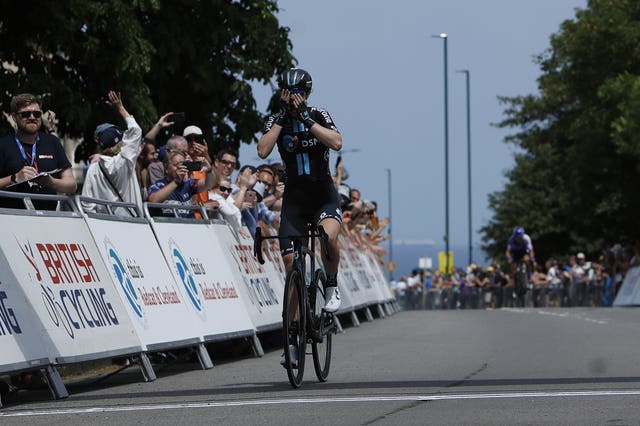 Earlier, Georgi attacked on Saltburn Bank to distance Claire Steels and Anna Henderson, reclaiming the jersey she won in Lincoln in 2021 before finishing second to Alice Towers in Castle Douglas last year.
"It's so special," Georgi, now a two-time national champion at the age of 22, told the PA news agency.
"It still hasn't sunk in. After I won the jersey in Lincoln, I really wanted it back because it's such an honour and it gave me a lot of confidence in the peloton turning up with the stripes.
"I'm really happy to get it back. It's hard to win it once and it's really hard to win it twice because I think everyone looks at you a bit more. Coming into Lincoln I was maybe a bit more unknown but this time I had more pressure that I kind of put on myself."
Both races were hugely attritional. Of the 101 riders who started the women's race, it was clear with more than two of the seven laps remaining that only seven were contenders for victory.
Steels kept attacking, but when Georgi tried a move of her own on the penultimate ascent of Saltburn Bank she saw she could distance her 36-year-old rival, and she repeated the move on the final lap to take the win.
"I was doubting myself that I was the strongest so I thought I needed to test where I was," she said. "After that I got the confidence that I could actually win it."
While the women raced in heat and humidity, the skies began to break midway through the men's race with sunshine giving way to showers, and showers giving way to torrential rain and thunder at the start of the penultimate lap.
That was about the time that Bahrain-Victorious announced their eight-man squad for the Tour, with no surprise that Wright was in it.
"I'll go to the Tour with a lot of confidence," he said. "I've won the national championships, I'm happy at the moment, and I'm going to keep trying."