The brother of a Briton who has been detained in an Indian jail for more than six years has said he is "hopeful" the new Foreign Secretary can secure the blogger's release.
Gurpreet Singh Johal said he hopes that Lord David Cameron, who made a dramatic return to frontline politics in a reshuffle last week, can use his "expertise and his leverage" to bring his brother Jagtar Singh Johal home.
Mr Johal, from Dumbarton, Scotland, was in Punjab in northern India for his wedding in 2017 when his family said he was arrested and bundled into an unmarked car.
He said he has been tortured, including through electric shocks, and faces the death penalty over his activism and campaigning for Sikh human rights.
His brother Gurpreet Singh Johal said the family feel they have been failed by the UK Government but hope that former prime minister Lord Cameron can make a difference.
He told BBC Radio Scotland's Good Morning Scotland programme: "We're hopeful that this Foreign Secretary, well first of all he has to meet us to confirm exactly what he is going to be doing to bring Jagtar back home, but really enough is enough because this Government has really let down Jagtar and his family over the last six years.
READ MORE: Humza Yousaf pledges to fight for blogger's release
"Rishi Sunak has said that he is using the experience of David Cameron, that's why he's brought him in, so we're hopeful that the contacts David Cameron has made over the years when he was the prime minister will be able to allow him to use that leverage and to do what all other foreign secretaries have failed to do and basically call for Jagtar's release because the UK Government have a policy and the policy is if you are arbitrarily detained, which the UN working group on detention have found, that you should be calling for release.
"We're hopeful that the sixth foreign secretary after six years might do something that the other foreign secretaries have failed to do."
The United Nations Working Group on Arbitrary Detention last year said that the "continued pre-trial detention of Mr Johal lacks legal basis and is arbitrary".
Mr Johal has written to Lord Cameron urging him to work to secure his brother's release.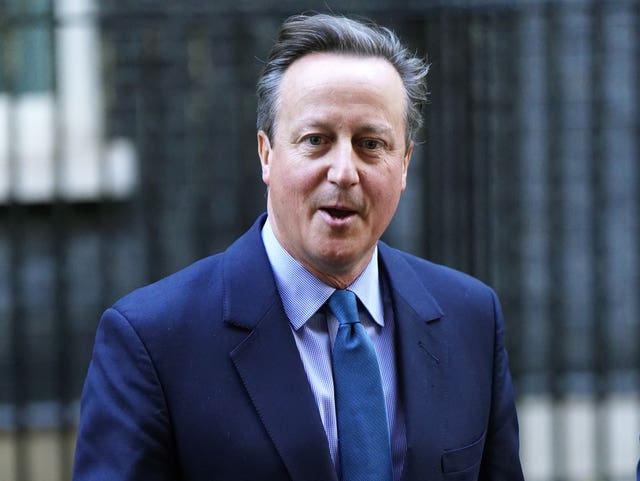 Mr Johal said that "robust action" is needed to bring home his brother, who has been detained for 2,208 days, and that it is not just about "soft diplomacy".
He added: "The bottom line is my brother's life depends on what David Cameron decides to do and whether he decides to call for Jagtar's release to bring him back home."
In his letter to Lord Cameron, Mr Johal wrote: "Jagtar is a British citizen, born and raised in Scotland, arbitrarily detained abroad on politically motivated charges and facing a possible death sentence.
"It must be a priority for the UK Government to resolve his case and bring him home."
Prime Minister Rishi Sunak raised the case of Mr Johal when he met Indian Prime Minister Narendra Modi on the fringes of the G20 summit in New Delhi in September.
READ MORE: Humza Yousaf writes to Rishi Sunak over Indian prisoner
At the time he said that the Government is committed to seeing Mr Johal's case resolved as soon as possible.
Mr Johal said he last spoke to Jagtar on his brother's wedding anniversary on October 18 and that his sibling is trying to stay positive and hopes he may be released on bail within months.
Get the morning's headlines — Direct to your inbox
He said: "He is hopeful in the next six months or so that he could at least be out on bail but that's as much as I know because I don't know what situation he is in.
"He is trying to put light at the end of the tunnel by thinking that he will be out in the next six months at least on bail."
The Foreign Office has been asked for comment.