A strong late-season Pacific storm has brought damaging winds and more rain and snow to a saturated California after causing two deaths a day earlier as it hit the San Francisco Bay Area with powerful gusts and downpours.
A possible tornado left a line of damage across roofs of commercial buildings in the Los Angeles suburb of Montebello a day after two other possible tornados occurred in Southern California.
The National Weather Service tweeted that it was sending teams to assess the damage in Montebello and the southern Santa Barbara County city of Carpinteria, where a possible twister hit on Tuesday.
Montebello city spokesman Alex Gillman said information was still being gathered.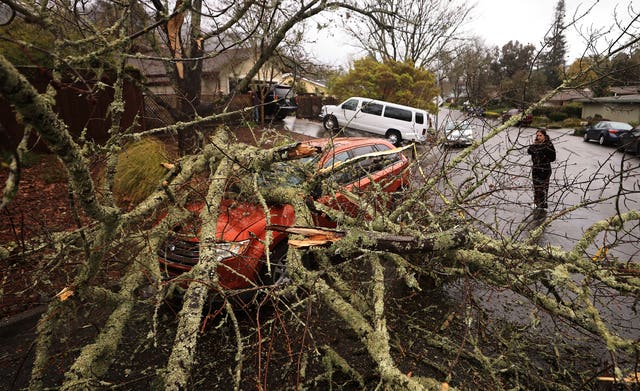 A tornado warning based on radar was also issued on Tuesday night for the Point Mugu area west of Malibu. The warning was later cancelled and the Ventura County Sheriff's Office tweeted there was no evidence a tornado touched down.
The violent weather hit even as the storm was gradually tapering off in California from north to south while pushing inland across the South West, the Four Corners region and the central and southern Rockies, the National Weather Service said.
On Tuesday, some residents of north-central Arizona were told to prepare to evacuate because of rising water levels in rivers and basins.
The wind and rain mayhem from San Francisco Bay south to Monterey Bay on Tuesday was caused by an extraordinary drop in barometric pressure over the eastern Pacific that meteorologists described as "explosive cyclogenesis".
"Wow. Even by the standards of what has turned out to be one of our most extraordinary winter seasons in a very long time, yesterday… stands out," the Bay Area weather office wrote.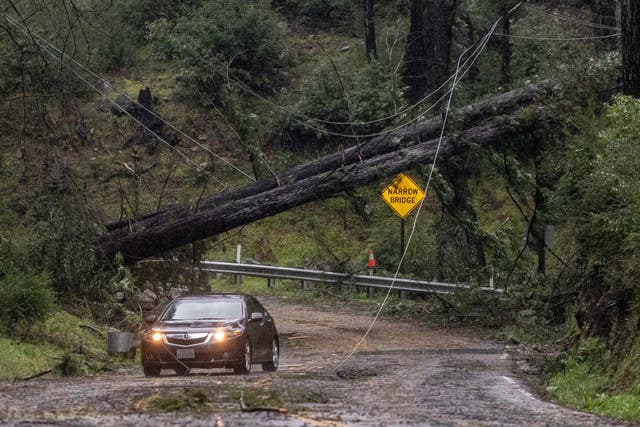 Trees and power lines were blown down. Windows were blown out from two San Francisco high-rise buildings, NBC Bay Area reported. Ferry services were disrupted because conditions were too rough. Three barges got loose and damaged a bridge.
An Amtrak commuter train carrying 55 passengers struck a downed tree and derailed near the East Bay village of Porta Costa. The train remained upright and nobody was injured, Amtrak and fire officials said.
In the Bay Area community of Portola Valley, a man driving a sewer truck was killed when a tree fell onto the vehicle, the California Highway Patrol said. And in the community of Rossmoor, a driver was injured and a passenger died after a large tree fell onto a car, the Contra Costa County Fire Protection District said.
In the Monterey Bay region, Santa Cruz County was blasted with gusts up to 80mph at midday. Along the coastline of the Monterey Bay National Marine Sanctuary, ocean foam blew across roads like large snowflakes.
Wind gusts reached 76mph in Santa Cruz mountain communities, including Boulder Creek.