The man suing Gwyneth Paltrow over a 2016 collision at one of the most upscale ski resorts in North America is expected to give evidence on Monday as the closely watched trial goes into its second week in Utah.
Lawyers said on Friday that retired optometrist Terry Sanderson, 76, was likely to give evidence first on Monday, before his lawyers rest and hand the courtroom over to Ms Paltrow's defence team to make their case.
Ms Paltrow's lawyers are expected to call her two children – Moses and Apple – and a ski instructor who was present the day of the collision.
Mr Sanderson is suing Ms Paltrow for more than 300,000 dollars (£245,000), claiming she skied recklessly into him from behind, breaking four of his ribs and causing head trauma that post-accident manifested as post-concussion syndrome.
Ms Paltrow has countersued for one dollar and lawyer fees, alleging that Mr Sanderson was at fault and veered into her from behind in a first gradual and then sudden crash.
After Ms Paltrow gave evidence on Friday that the collision began when Mr Sanderson's skis veered between her two legs, lawyers are likely to question Mr Sanderson on his recollections.
Craig Ramon, the sole witness of the crash, said that he heard a loud scream and saw Ms Paltrow hit Mr Sanderson, causing his skis to fly up into the air before he plummeted down on the beginner run in a "spread eagle" position.
Lawyers are also likely to question Mr Sanderson on the post-concussion symptoms that medical experts and his doctors gave evidence about last week.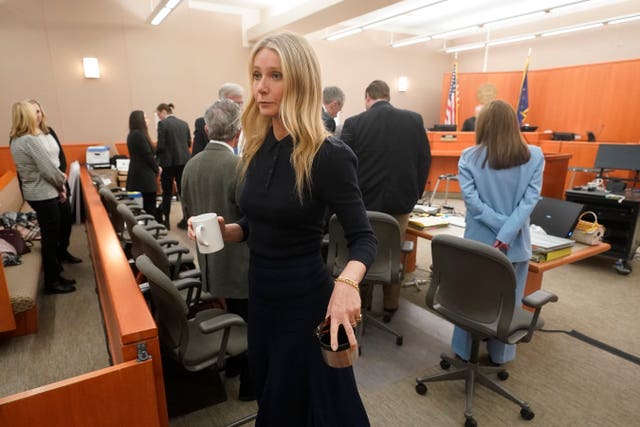 Ms Paltrow's lawyers are expected to ask about his references to her fame and whether the lawsuit amounts to an attempt to exploit it.
Though the courtroom in Park City, Utah, was far from full throughout the first week of the trial, the case has emerged as the most closely watched celebrity trial since Johnny Depp took Amber Heard to court almost a year ago in Virginia.
Clips of lawyer outbursts and Ms Paltrow's evidence on Friday have been cut and circulated widely on social media, while observers have debated the motivations on both sides to sustain the prolonged legal battle seven years after the collision.
The amount of money at stake for both sides pales in comparison to the typical legal costs of a multi-year lawsuit, private security detail and an expert witness-heavy trial.