Labour have demanded an investigation by the Prime Minister's standards adviser into International Development Secretary Priti Patel's meetings with the Israeli government, which they believe involved four "serious breaches" of the ministerial code of conduct.
Downing Street insisted that Theresa May continues to have confidence in Ms Patel, after the Cabinet minister received a dressing down on Monday over her decision to conduct a series of meetings, including one with Israel's prime minister Benjamin Netanyahu, without informing the Foreign Office.
Meanwhile, Number 10 confirmed that Ms Patel had discussed the possibility of UK aid being used to support medical assistance for refugees from the Syrian civil war arriving in the Israeli-occupied Golan Heights.
But the PM's official spokesman insisted that there had been no change in Government policy that the UK does not provide funding to the Israeli army.
I've told @theresa_may we need to know if Priti Patel broke the ministerial code, and if so why does she retain the PM's confidence? pic.twitter.com/Ukm2R0QWN9

— Jon Trickett (@jon_trickett) November 7, 2017
In a letter to Mrs May, Labour's shadow Cabinet Office minister Jon Trickett said the PM should either call in her independent adviser on ministerial standards Sir Alex Allen or "state publicly and explain your full reasons for why Priti Patel retains your confidence despite clear breaches of the ministerial code".
Mr Trickett said there were "strong grounds" to believe that Ms Patel had broken the code's requirements for openness, collective responsibility, honesty and performing only those duties allocated to them by the PM.
"Given that it is reported you met Priti Patel yesterday and reminded her of her responsibilities under the ministerial code, I believe it important that either you or the Cabinet Secretary publicly set out whether you have determined that Priti Patel failed to adhere to the code and if that is the case, why she still remains a member of your Government," wrote Mr Trickett.
Priti Patel forced to apologise over undisclosed Israel meetings. Admits FCO didn't know. PM should investigate clear breach of Min. code

— Jon Trickett (@jon_trickett) November 6, 2017
Labour sought to force Ms Patel to explain herself in front of MPs by tabling an urgent question on the issue in the House of Commons.
But the Department for International Development said minister of state Alistair Burt would respond to the question from Mrs Patel's shadow Kate Osamor.
International Trade Secretary Liam Fox insisted Ms Patel did nothing "forbidden" in her secret meetings.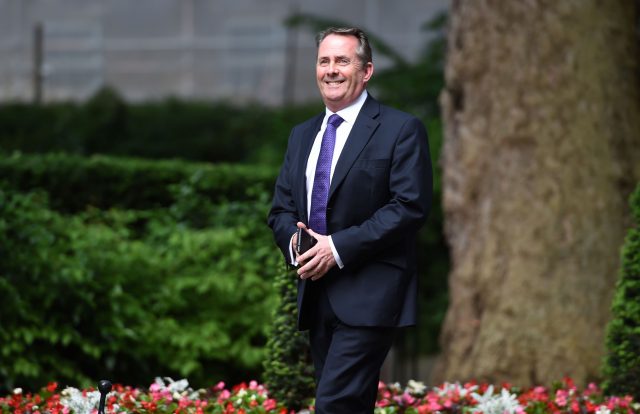 He told BBC Radio 4's Today programme: "I find it utterly unsurprising that the International Aid Secretary would want to talk to charities while she is on holiday in a particular area about whether or not we can use the British aid budget to diminish the humanitarian problems of people in that area."
On the issue of the meeting with Mr Netanyahu, Dr Fox said: "It's not in any way forbidden to do that."
But he added: "When I'm on holiday I doubt my wife would give me time off to do anything other than have a holiday."
The Prime Minister was forced to remind Ms Patel of her obligations as a minister after it emerged that she took time out from a family holiday to meet Mr Netanyahu, other politicians, businesses and charities during a visit to Israel between August 13 and 25.
The meetings were arranged by the honorary president of the lobbying group Conservative Friends of Israel, Lord Polak, who also attended all but one.
Great to meet with Priti Patel, UK Secretary of State for International Development, today. A true friend of Israel. pic.twitter.com/8q9qSeX7YZ

— יאיר לפיד (@yairlapid) August 24, 2017
On returning from her trip, Ms Patel commissioned Department for International Development (Dfid) work on disability and humanitarian and development partnerships between Israel and the UK.
Ms Patel only made Mrs May aware of the meetings on Friday, more than two months after they took place, when reports began to emerge of talks she held with a politician and a disability charity.
The minister has apologised and admitted a "lack of precision" for suggesting last week that Foreign Secretary Boris Johnson knew about the trip, and that only two meetings had taken place when she attended 12.
Mrs May also took steps to tighten the ministerial code, asking Whitehall's top civil servant Sir Jeremy Heywood to look at how it can be clarified.
But Mr Trickett said he was concerned that this suggested that the PM did not believe Ms Patel had breached the terms of the code in its current form.