Nicola Sturgeon said she would argue she was "not out of step" with the Scottish public around the issues of trans rights and the gender recognition act.
Concluding a mammoth day of media rounds on Monday, the outgoing First Minister told Sky News political editor Beth Rigby she had listened to stories from transgender children who told her they wanted to kill themselves due to the "stigma, discrimination and recognised for who they are".
She said: "I think I can sit here and argue I wasn't out of step with the Scottish public (on GRA).
"I've sat in rooms with young trans kids talking to me about wanting to kill themselves because of the stigma and the discrimination and the inability to be recognised for who they are."
---
READ MORE: Double rapist Isla Bryson jailed for eight years
---
She added: "The threat to women is abusive and predatory men, not trans people.
"My regret was that I wasn't able to take the debate and the discourse around it into a more rational place."
Ms Sturgeon was also asked if she regretted her handling of trans rapist Isla Bryson, a convicted rapist placed in a women's prison.
"These are tough issues, but they are issues fundamentally about basic human rights," she said.
"There is no other group in society where we take the behaviour of a tiny minority and use it to deny rights to that group.
"What gender that person said they were, was less important than saying they were a convicted rapist.
"The fact they were a convicted rapist should not have been used by anybody as a pretext for denying rights to the wider trans community."
She revealed she had received more abuse over the issue than at any other point in her tenure as First Minister.
"I've had more toxic abuse, on this issue, much of it from women claiming to care about women's rights and women's safety than I have from probably any other issue," she said.
"All of us need to take a step back and reflect on that.
---
READ MORE: SNP leadership contest is 'reset opportunity' for Gender Reform law
---
"We can disagree and obviously do disagree but whether it's on this issue or other issues, we need to relearn how to disagree in a way that is civilised and respectful and brings a bit of good faith back into some of these debates."
Ms Sturgeon's final week in office has been overshadowed by the resignations of the SNP's head of communications, Murray Foote and her husband Peter Murrell as chief executive over claims press officers gave journalists misleading information on membership figures.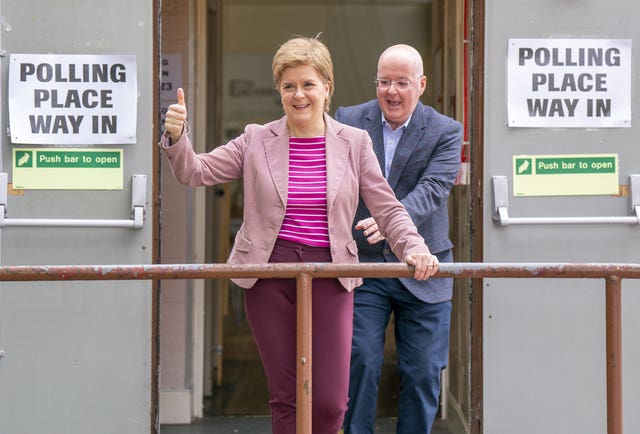 She acknowledged the party was going through a "difficult" time, but believes it will emerge "stronger".
She said "at times" the election had been a "less than edifying process".
She said: "But the process is fundamentally sound, the party is undefeated electorally.
"Most of the parties who go through a process like this do it after an election defeat.
"That's not the position the SNP is in."
She warned her successor not to "throw the baby out of the bath water" and protect the ingredients for the SNP's electoral success.
She said: "The SNP has had only three leaders in 30 years, it hasn't had to go through this process in a while.
"We will emerge from this, it doesn't feel like it just now, I readily concede that, we will come out of this, stronger."