Labour is prepared for a "dirty and nasty" campaign ahead of next year's general election, Sir Keir Starmer has said.
It comes as the Labour leader claimed his project of reforming the party in the aftermath of the Corbyn era is an "on steroids" version of Sir Tony Blair's symbolic rewriting of Clause Four.
Sir Keir used a speech at the Progressive Britain Conference in central London to offer his vision for Labour in the aftermath of its local elections success, but also acknowledged that the party faced a hard road ahead if it is to take power after the next general election.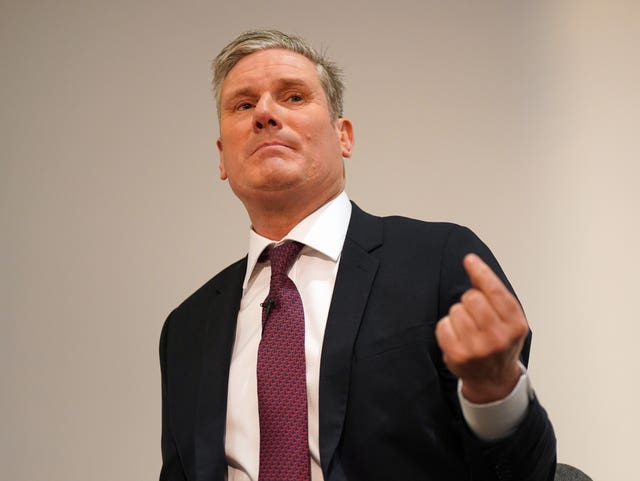 In a questions and answers session, he said: "I have always known it is going to get dirty and nasty. That is the nature of our politics.
"We can't complain. It isn't pleasant, but we have to get on with it."
But he said Labour should look forward to the challenge: "This is the bit where we get to talk about the future of the country, with hope."
---
READ MORE: Sarwar accuses Yousaf of 'campaigning for Tory government'
---
The Labour leader was greeted with a standing ovation as he arrived on stage, where he delivered a speech that focused on the pitch his party needs to make to working class voters ahead of an expected election in 2024.
But he also stressed the scale of the challenge facing his party – if it can enter Government for the first time since 2010.
"We've been drifting away from working people for a long time – and that's unforgivable. That's why I say this project goes further and deeper than New Labour's rewriting of Clause Four.
"This is about rolling up our sleeves, changing our entire culture.
"It's our DNA.
"And with the levels of cynicism in our politics, the let-down, the drifting away, the disconnect, our collapse in Scotland, the loss of the red wall, this task is ongoing, difficult and enormous.
"It is, if you like, Clause Four on steroids. And the results last week show our work is beginning to pay off."
The reference to Sir Tony's momentous 1995 decision to ditch the party's constitutional commitment to "common ownership of the means of production" came as Sir Keir also stressed the need to ensure "stability" for the country.
"I don't think the language of stability comes naturally to progressive politics," he told the audience.
"We must understand that there are precious things in our way of life, in our environment, in our communities that it is our responsibility to protect and preserve, to pass on to future generations.
"If that sounds conservative, then let me tell you: I don't care.
"Somebody has got to stand up for the things that make this country great and it isn't going to be the Tories."
---
READ MORE: SNP claim Keir Starmer would U-turn on Indyref2 in hung parliament
---
Sir Keir's comments sparked a fresh attack from the SNP as First Minister Humza Yousaf branded Labour a "replica" of the Conservatives.
"Whether it is the blue Tories or red Tories in Number 10, they will continue policies that are harming Scotland. We need independence to protect our people," he tweeted.