Ministers in Scotland must take a "more proactive approach" to managing the economy to help prepare the country for Brexit, the Scottish Labour leader has said.
With one year to go until the UK leaves the European Union, Richard Leonard said there needed to be "step change in how we sustainably develop jobs and our economy".
But at the same time as he made the call, Brexit rebels within his own party said Labour must "rise to the occasion" and support permanent membership of Europe's single market to limit economic damage.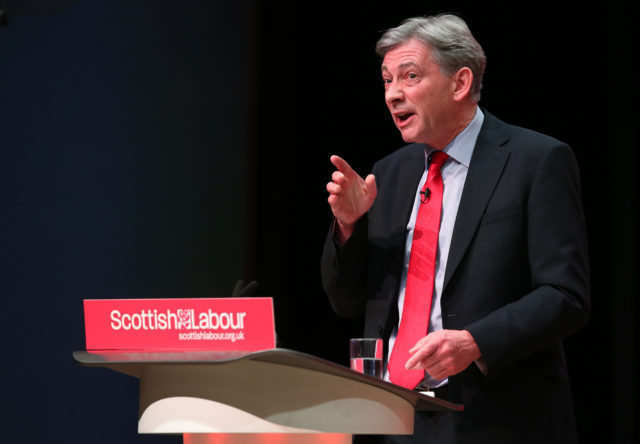 Former Scottish Labour leader Kezia Dugdale issued a joint statement with MP Ian Murray and MEP Catherine Stihler, insisting this was the "least worst option".
The politicians, who are part of the Scottish Labour for the Single Market campaign group said the 2016 European referendum was "not the end of the process" and the UK Parliament could still stop a hard Brexit.
They insisted: "The Labour Party must rise to the occasion. It's now or never. The future won't be kind to those who stand by and allow the Tories to inflict economic ruin on our country."
While Labour has said it favours retaining a customs union with the EU after Brexit, it does not support staying part of the single market.
Addressing the issue at Labour's Scottish conference earlier this month, Jeremy Corbyn was clear it would be "wrong" to stay part of the single market if this would prevent Labour from implementing its "radical plans" for Britain.
Mr Leonard stressed that both the Scottish and UK governments must be focused on "ensuring the best deal for workers and the economy" in the wake of Brexit.
He said: "Labour has consistently put them at the heart of our arguments around the deal that needs to be negotiated so we can rise to the challenges Brexit will undoubtedly present.
"Scottish Government analysis has forecasted a decline in productivity which will account for a 5.8% reduction in our GDP. So, the challenges of Brexit reinforce a belief I have held for a long time – that a more pro-active approach to the economy is needed.
"Scotland has got to change. It has got to change in terms of how economic power is exercised and by whom. It needs a different and more active approach from government and the public sector. Critically it needs new forms of ownership and higher levels of investment and an economy where the proceeds are shared more equitably.
"Brexit, with all its challenges, only reinforces this need for a step change in how we sustainably develop jobs and our economy."
SNP MSP George Adam said: "This is beyond parody. Labour are backing the Tories' catastrophic plans to drag Scotland out of Europe against our will, with disastrous consequences for jobs, investment and living standards – and yet they want to blame the SNP.
"It is contributions like this which prove once and for all that Richard Leonard isn't even fit for opposition, let alone government."