R&A chief executive Martin Slumbers insists there has been no intelligence surrounding any potential protest at The Open this week, but remains confident in the "significant" security procedures at Royal Liverpool.
Slumbers said "one of the most senior players" had been targeted at St Andrews last year,  but nothing public materialised after security was increased at specific locations.
Players have been advised not to get involved if any protests occur after the environmental group Just Stop Oil targeted Wimbledon and the Ashes Test at Lord's, where England wicketkeeper Jonny Bairstow carried one protester off the pitch.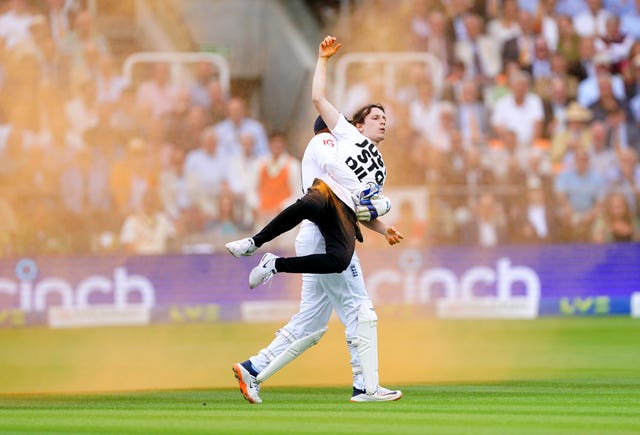 "We've had no direct intelligence," Slumbers said on the likelihood of protests at the year's final major championship.
"There was direct intelligence last year and most people in this room don't know The Open was targeted last year.
"We had a very credible threat that was reported to us that one of the most senior players in the field was going to be targeted by an environmental activist.
"We have significant security procedures in place, we work with law enforcement agencies and we will wait and see what happens.
"We have advised the players please don't get involved and I stand by that. We have enough things in place to be able to deal with that. Beyond that I think security matters I need to keep confidential."
Masters champion Jon Rahm joked on Tuesday that any would-be protesters invading the course had better hope he was in a good mood at the time.
The world number three, who is known for the occasional fiery on-course outburst and will play the first two rounds in a marquee group with Rory McIlroy and Justin Rose, said: "I do have a reputation so I hope they don't catch me on a bad hole."
Speaking at a media day at Hoylake in April, championships director Rhodri Price said the R&A would continue to engage with protest groups ahead of the Open, which is set to attract 260,000 spectators during the week – a record for an Open outside of St Andrews.
"It's not something we are reactive to, we are very pro-active," said Price, who said the R&A has the capacity to search all bags being brought into the course.
"We have all of the contingency planning, a monthly security group, intelligence cells that gather all this information. In fact they engage with all the protest groups to try to make sure we can provide for them if they were to attend.
"We've had several in the past that we were able to accommodate so that they can get their message across in a controlled environment."