Great Britain recorded a best major women's team sprint result in 12 years with silver at the UCI Cycling World Championships before Will Tidball ended the day with scratch race gold in Glasgow.
Lauren Bell, Sophie Capewell and Emma Finucane recorded a time fast enough to break the world record at the Sir Chris Hoy velodrome but Germany went even faster to take gold in a time of 45.848 seconds.
Bell described it as a "bittersweet" result as they settled for silver, but even so it is another big marker after Britain failed to qualify for the team sprint at either of the last two Olympics.
Silver is Britain's best result at this level since Victoria Pendleton and Jess Varnish finished runners up in 2011, having been beaten by an Australian team including outgoing Great Britain coach Kaarle McCulloch.
"We pushed them all the way," said Capewell. "We can take a bit of credit for that world record I think. It's a little bit disappointing but our goal is next year and this is a stepping stone.
"If you look at how far we've come, we've knocked over half a second off our time last year and none of us executed it perfectly so there is more to come."
It was a rollercoaster day for Britain in the velodrome, with their defence of the men's team pursuit title ending a qualifying crash for Charlie Tanfield in the morning, but Tidball ended it in golden fashion with a surprise win in the scratch race.
The 23-year-old, making his World Championship debut and competing in his only race of the week, kept himself hidden for much of the 60-lap race before coming around Dutch rider Roy Eefting-Bloem with half a lap to go.
"I didn't have expectations," Tidball said. "I didn't really dream of coming away with a medal. I wanted to put it all on the line to win it. With a scratch race, that's how you're going to win. You can't win it with a half-hearted attack. We went all-in and it paid off."
If there was a complaint from the riders, it was that the medal ceremonies did not take place in the velodrome itself, but over in a side room away from the crowds.
"That's the one thing that is missing," Tidball said. "They should have put that here. It's probably the most important thing to have in a track centre. Maybe I should win another time."
But while Tidball could celebrate, it was a bad day for his men's endurance team-mates as Tanfield crashed 40 metres from the line in team pursuit qualifying. With Britain already down to three riders at the time, they failed to set an official time and went out of the competition.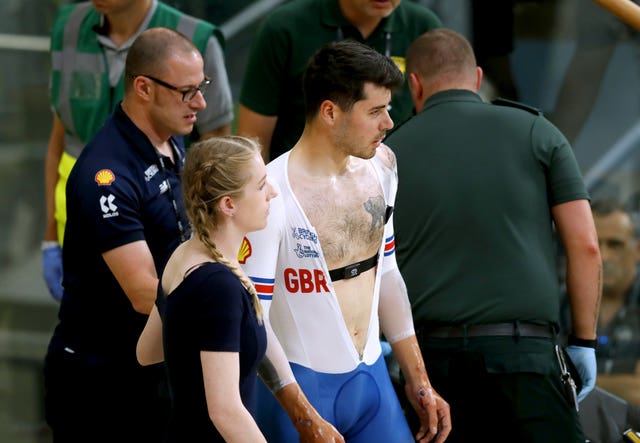 Britain had been on course for the second fastest qualifying time behind Denmark and a ticket to the medal rounds prior to the incident but Tanfield, a late call-up to the squad to replace the injured Ethan Hayter, began to lose the wheel of Dan Bigham and Ethan Vernon in the final laps.
As he pushed to keep up, Tanfield dipped his front wheel on to the blue band at the bottom of the track and lost control. The 26-year-old, part of the GB squad who won the world title in 2018, was taken to hospital and was diagnosed with a concussion.
Neah Evans missed out on bronze in the women's individual pursuit, beaten by New Zealand's Bryony Botha as American Chloe Dygert took gold.
There was success for Britain's para-cyclists. Sophie Unwin and Jenny Holl took gold in the women's B kilo time trial, with Lizzi Jordan piloted by Amy Cole claiming bronze in the same event.
Steve Bate and Chris Latham took bronze in the men's B individual pursuit.
Earlier in the day, Jody Cundy became the second British para-cyclist to set a new world record at these Championships as he clocked a time of 10.427 seconds in the men's C4 omnium flying 200 metres.