Emma Finucane capped a breakout year as she became Britain's first women's sprint world champion in a decade at the UCI Cycling World Championships.
The 20-year-old got the better of Germany's Lea Friedrich to win the final 2-0, the first time Britain had picked up a medal of any colour in this event since Becky James took the world title in 2013.
"It's pretty surreal to be honest," the Welsh rider said. "I can't really believe that I'm world champion.
"I don't think it will ever sink in but I really wanted this, I worked really hard for this with my coach Kaarle (McCulloch) and the team back in Manchester so it's definitely super special.
"Especially after coming so close in the team sprint and then crashing in the keirin, but everything happens for a reason and this was meant to happen for me so it's super special."
Finucane has been a key part of Britain's changing fortunes in the women's sprint and last week was part of the trio that won team sprint silver alongside Sophie Capewell and Lauren Bell, building on their bronze last year.
This year she has also picked up four national titles, a Nations Cup win in Cairo, and two silver medals at the European championships.
"After winning in Cairo I knew it was in there and it's just executing," she said. "I knew I could do it, it's just how you do it.
"This year has been pretty special for me and I've broken through but there's still so much more to come for Paris, and I'm excited to start that journey again."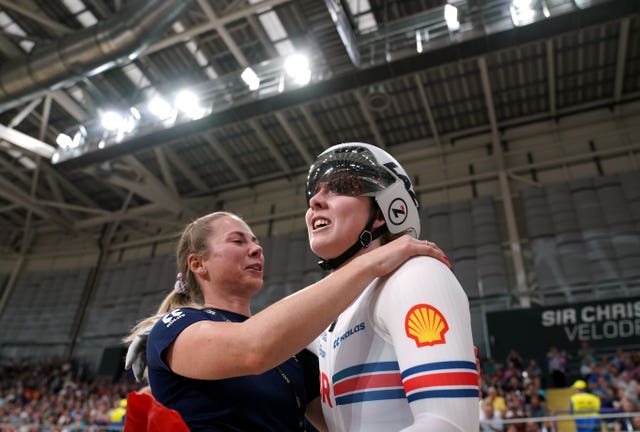 There were emotional scenes with McCulloch, who is leaving her post after these championships for personal reasons, in tears during the celebrations.
"Emotions are super high because Kaarle is leaving and I feel like this was my last race with her and to win it with her and for her is super special," Finucane added.
"I knew I was going well after the team sprint so I really wanted it in the keirin and after crashing I just used that as motivation to give everything and show everyone that I can do it."
Jack Carlin missed out on the medals in the men's keirin on his home track as he took fifth place in the final, with Will Perrett also fifth in the men's points race.
Finucane's gold helped Britain finish top of the medal standings as the action in the velodrome came to an end at these championships.
Britain finished with five track cycling golds and nine medals in all ahead of the Netherlands in second, who had four golds from five medals in total.
Success for Britain's para-cyclists was even more pronounced, with 18 gold medals and a total haul of 30, way clear of second-placed France who had seven golds and 14 medals in total.