One of the first thoughts that came into Liam Broady's mind when he achieved a decade-long goal by securing a place in the top 100 was for the people who gave up on him.
By reaching the final of last week's second-tier Challenger tournament in St Tropez, Broady guaranteed he would rise to 93 in the rankings when they are updated on Wednesday.
It is 12 years since the Stockport player, who is now 29, reached the boys' final at Wimbledon and he told the PA news agency of his emotions, saying: "Mainly relief.
"The thing that's been the goal that's kept me going for 10 years has been 'I will be top 100 one day'.
"It's funny, with this stuff you never feel as good as you think, once you do it you're like, 'Oh is that it'? Now I'm already thinking about how can we finish the year strong, how can I go to Australia and maximise at the start of next year. But it is a big weight off my shoulders.
"I don't know why but you always see a player who's been in the top 100 differently. Even if someone's made 99 and someone's been 101, there's a different sort of aura about that and I've been conscious of that for years.
"There have been plenty of British players that have been fantastic but never managed to cross that final hurdle. I didn't want the same thing for myself, I wanted to be within that holy grail."
It has been a rollercoaster of a career for Broady, who hit such a mental low a few years ago that he came close to quitting the sport.
He has had a turbulent relationship both with the Lawn Tennis Association and his father, who severed ties with the federation when Broady was a junior after his sister and fellow player Naomi had her funding cut.
Broady went against his father's wishes by turning to the LTA before refusing funding again in order to try to repair the relationship, but the final blow came courtesy of the federation.
"I remember past regimes at the LTA – and I don't hold the current situation responsible for this – but when I did get my funding cut I think I was 23 years old," he said.
"And at the time they had this algorithm, they'd worked out statistically how many players make top 100 past a certain age and how long they stay there for and they had a stat that basically it wasn't worth a player making it past the age of 23 or whatever it was.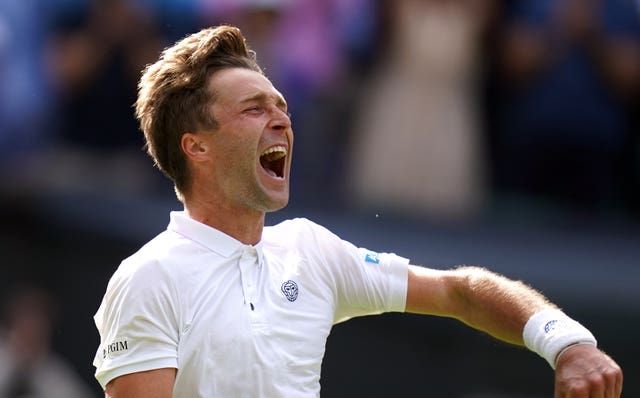 "I remember Jo Konta at the time had had her funding cut and then the next year she made top 100 and as we all know, had a fantastic career.
"That was something that stuck with me for many years and that was one of the first things I thought of and I hope that people that have gone through stuff that I've gone through and have lost belief and had people tell them, 'It's too late, you're not going to make it' – if you're willing to put in the work and the sacrifice, there's no telling when you're going to make it.
"Even if you make it for a week or for a year, it's worth it in the end, I can attest to that."
Broady freely admits he has not always helped himself with a lack of professionalism in his younger days but he has been on a steadily upward curve over the last four years.
This season he has performed consistently at Challenger level, while he achieved a career-best victory over then world number four Casper Ruud to reach the third round at Wimbledon.
By his side for most of the last 10 years has been coach Dave Sammel, who Broady credits for helping him navigate choppy waters on and off court.
"I've been through a lot of stuff," he said. "But Dave was there from the start and he always believed.
"I think he'd be the first to say he's had times where the belief has wobbled but he's a great crisis management coach and that's what I've kind of needed. He's been probably the steadiest influence in my life over the last 10 years.
"I had a lot of stuff going on with my family, I had a lot of stuff going on all over the place, I'm a very chaotic person by nature. And Dave has been an emotional rock for me on and off the court and combined with that, he's a great tennis coach."
With top 100 ticked off, Broady is spending a few days back home for the first time since May and his priority over the remaining weeks of the year is to ensure he makes it into the main draw of a grand slam on ranking for the first time at the Australian Open.
So how high could Broady go?
"I don't know," he said. "I'm interested to see. Ask me in a year's time. Once you're in the top 100, I think it all comes down to runs you can go on.
"If you play well at the right tournaments then you can go as high as anyone. I've got no experience of knowing what that feels like so I'm just excited."