World Rugby has found insufficient evidence to pursue Tom Curry's allegation that he was racially abused by Mbongeni Mbonambi in England's World Cup semi-final defeat by South Africa.
The game's global governing body announced that it has closed the case unless additional evidence comes to light.
Curry alleged to referee Ben O'Keeffe in the second quarter of the Stade de France showdown that he had been called a "white c***" by Springboks hooker Mbonambi.
In an unexpected development, World Rugby revealed that it had also been investigating an additional allegation arising from the rivals' clash at Twickenham in November.
The Rugby Football Union told the investigation that Curry "had also been the victim of the same abuse, from the same player, in the autumn Test 2022".
"Any allegation of discrimination is taken extremely seriously by World Rugby, warranting a thorough investigation," a World Rugby statement read.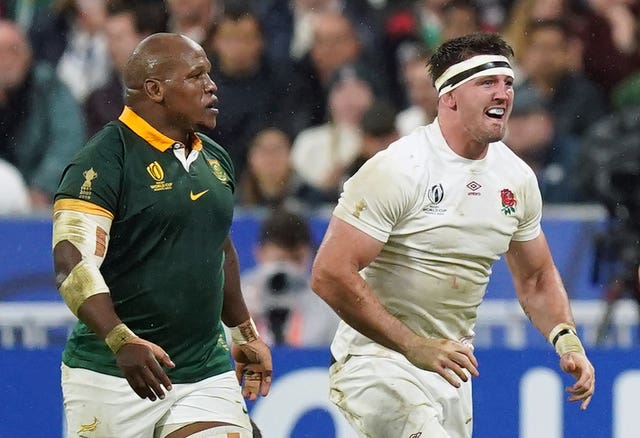 "Having considered all the available evidence, including match footage, audio and evidence from both teams, the governing body has determined that there is insufficient evidence at this time to proceed with charges.
"Therefore, the matter is deemed closed unless additional evidence comes to light.
"It is important to note that World Rugby accepts that Tom Curry made the allegations in good faith, and that there is no suggestion that the allegation was deliberately false or malicious."
The RFU has condemned the verdict reached by the investigation, which has overshadowed the build-up to Friday's bronze final between England and Argentina and the final between New Zealand and South Africa 24 hours later.
Curry will win his 50th cap when he lines up against the Pumas, despite facing extensive online abuse since his allegation against Mbonambi was picked up by the ref mic during the 16-15 defeat by the world champions.
"The RFU fully support Tom Curry in raising the racially abusive behaviour he experienced," an RFU statement read.
"The RFU are deeply disappointed by the decision taken by World Rugby. The decision not to put the evidence before an independent disciplinary panel has denied the disciplinary process the opportunity to hear Tom Curry's voice and to independently assess his account of these serious events, together with the other available evidence.
"In their continued full support of Tom, the RFU, together with the England squad, condemn the disgusting abuse he and his family has received on social media as a result of his having had the courage to put unacceptable behaviour that has no place in society or on the rugby field in the public eye."