Kevin Sinfield will again push his body to the limit in support of friend Rob Burrow as he plans to run seven ultra-marathons in seven different cities across seven successive days.
Sinfield is taking on the challenge to raise money for motor neurone disease charities after seeing his great friend Burrow affected by the illness.
The former Leeds Rhinos player, who has undertaken several other physical challenges over the last few years and raised £13million, will run 27.2 miles on seven successive days around the United Kingdom and Ireland.
He will start in his home city of Leeds on December 1, before heading to Cardiff, Birmingham, Edinburgh, Dublin and Brighton before finishing in London.
Sinfield said on BBC Breakfast: "We go again, we start three weeks on Friday, running has been a great vehicle for us.
"It has been a great way of celebrating the MND community and celebrating Rob and showing people we care. The support we have had has been amazing.
The plan is to run seven marathons, plus an extra mile each day, in seven different cities in the UK and Ireland across seven days.
"We are aware we have not been to the south and felt it is important to go to the south because there is a large number of people with MND down there, we wanted to go to Wales and Ireland.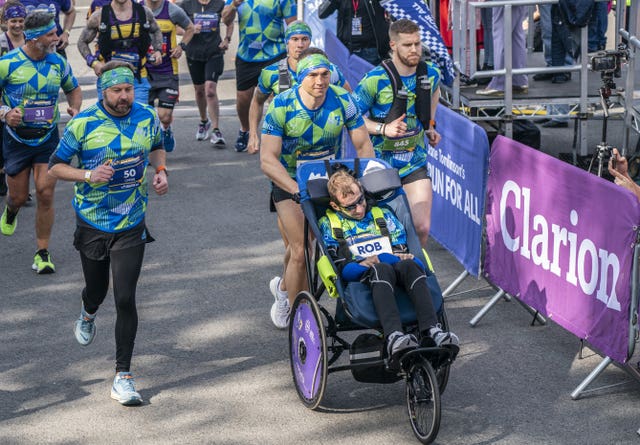 "We want to share and support and raise some funds.
"We are really looking forward to it; there are 100 reasons we shouldn't go again, but there are 5,000 why we should and the big reason is Rob.
"If we want to make a dent on MND and to shift the dial line we need money and the awareness has been brilliant over the last four years.
"It's the funds (that) are going to make a difference, whether that is to find a cure, or to support families or provide equipment like Rob has where people can still communicate and be in the room."
Burrow, who is able to speak using special equipment, told his friend: "Another crazy challenge, we thought you would stop after the last one, but here you go again. I would do the same for you.
"I hope to see you off at the start and be there at the finish, you never stop banging the drum for the MND community, remember Kev you aren't getting any younger!"