Carlos Alcaraz snapped a three-match losing streak as he beat Andrey Rublev  7-5 6-2 in his penultimate round-robin contest of the ATP Finals in Turin.
It was the first encounter between the Spaniard and Russian, with the latter hoping to bounce back from Monday's loss to compatriot Daniil Medvedev.
Instead he found himself pinned back by world number two Alcaraz, who never faced a break point and kept his hopes of advancing from the the Red Group alive with his first win at the year-end event after missing the last edition with an abdominal injury.
Alcaraz's critical break came in the 11th game of the first set, during which he dropped just one point on his first serve and soon his opponent began to unravel.
Rublev dropped his serve to start the second set and could not rein in his reaction as he slammed his racquet against his knee with such force he drew blood, mopping it up with a towel at his chair before returning to the court.
It was all too much to overcome as Alcaraz, who finished with 21 winners to 11 unforced errors, sealed the 74-minute victory with his first match point.
The 20-year-old, who improved to 1-1 following his opening loss to Alexander Zverev, will face Medvedev to conclude the group stage on Friday while Rublev will take on Zverev.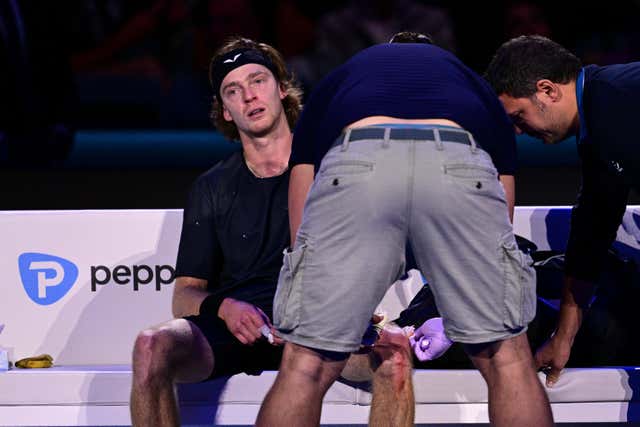 Alcaraz told the ATP website: "It was a totally different match and level from me. This is the level I have to play if I want to give myself a chance in this amazing tournament.
"Yesterday was a good day for me in practise to find the level I needed to show today and I think I did pretty well. I am very happy with my level."