British forces will train Malaysians in anti-poaching techniques to help protect endangered wildlife species like the tiger, the UK's High Commissioner to the country has announced.
The counter-poaching specialists – who have worked in Africa – will next year teach groups like rangers how to track down poachers over great distances and long periods of time.
Stunning views of #Malaysia from above as The Prince travels to Belum to attend a conservation summit with the Sultan of Perak #RoyalVisitMY pic.twitter.com/PIDVofSwKP

— Clarence House (@ClarenceHouse) November 4, 2017
The Prince of Wales's charitable body supported the project financially when it was in its infancy and Charles attended a conservation summit in Malaysia where High Commissioner Vicki Treadell made the announcement.
Support for the initiative has also come from the Duke of Cambridge's wildlife conservation charity, Tusk Trust, which William supports closely as royal patron, and has given funds to the scheme.
Read Tusk's Royal Patron, HRH The Duke of Cambridge, speech from the fantastic #TuskBall @KensingtonRoyal https://t.co/hOd14HiaJk pic.twitter.com/eAFDO6T3BA

— Tusk (@tusk_org) November 4, 2017
Charles had the chance to see the sort of habitat Malayan tigers live in when he was taken on a boat trip in the Royal Belum State Park, in northern Malaysia, where the conference was held.
Wearing a life jacket over his cream suit, the Prince's boat, also carrying his entourage, sped over rainforest-fringed Lake Temenggor for 45 minutes.
Following a @WWF Conservation Summit, HRH enjoys a narrated boat tour around Temenggor Lake, hearing about the area's wildlife #RoyalVisitMY pic.twitter.com/Fe3sVwZ6Km

— Clarence House (@ClarenceHouse) November 4, 2017
Speaking briefly at the end of the summit, Ms Treadell told delegates: "I'm pleased to announce, albeit a small sum, we have identified an initial £30,000 or 165,000 ringgit – depending on the rate of exchange – to develop some capacity building programmes working across Malaysia."
She added: "The other commitment that we will make today is that we will bring British military anti-poaching training expertise to Malaysia next year to run some training of anti-poaching.
"Of course we will do it here in Belum but we also hope to take it to other parts of Malaysia. That is our commitment to take the work that flows from this summit forward."
The numbers of Malayan tigers have fallen by around half to just 250 animals during an 11-year period to 2014 – but global figures for the big cats have increased by 700, from 2010-16, to 3,900.
Here's 1st Welsh Guards in Kenya #WorldElephantDay Did you know our troops train anti-poaching teams in Africa? pic.twitter.com/h0WRHYEwpm

— British Army (@BritishArmy) August 12, 2016
The British Army's project to train countries in anti-poaching skills has been piloted in Malawi during the summer.
Commanders see the initiative as a way of enhancing soldiers' tracking skills which have not been needed in conflicts in Afghanistan and Iraq.
Charles listened to the conclusion of the two-day conference where wildlife conservation groups and government and state organisations pledged to increase their efforts to safeguard a range of habitats from coral reefs to rainforests in the region.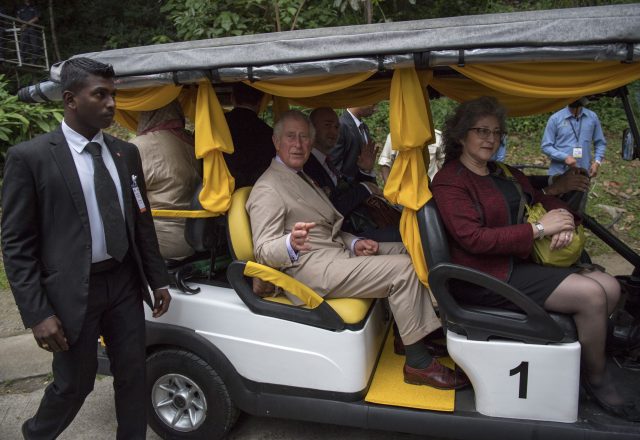 During his tour of the park's lake, Charles was ferried to and from the motor boat in a golf buggy – complete with yellow curtains – and was joined by the High Commissioner and others.
The Sultan of Perak, who like the Prince has a keen interest in the environment, was among the group as the Royal Belum State Park lies within his state.
Day1 #RoyalVisitMY
TRH #PrinceCharles
The #PrinceofWales &
The #DuchessofCornwall call on HM YDPA Sultan Muhammad V at Istana Negara#MYUK60 pic.twitter.com/rZiQ780gPt

— VickiTreadell (@VickiTreadell) November 4, 2017
Charles and Camilla had tea earlier with the Sultan, who is Malaysia's deputy Agong or King, at his lavish palace Istana Iskandariah in the royal town of Kuala Kangsar.
Royals gifts were exchanged with the Prince given artwork and the Duchess a large silver water flask, while Charles gave the Malaysian ruler two sets of table mats featuring his watercolours.
The heir to the throne, who is on an 11-day tour of south-east Asia and India, had travelled from the capital Kuala Lumpur by helicopter and returned to the city as the hot and humid conditions turned to a heavy downpour.