A museum dedicated to the history of childhood has reopened following its first makeover in 30 years.
The main ground-floor gallery of the Museum of Childhood in Edinburgh has been fully refitted as part of the £200,000 refurbishment and features 60 newly-displayed objects.
There is a colourful "building blocks" design with interactive exhibits tracking changing childhoods while a dressing-up area and tee-pee in a new imaginary play area offers families the chance to play together.
The City of Edinburgh Council museum reopened on Friday following the five-month refurbishment.
Councillor Donald Wilson, the City of Edinburgh Council's Culture and Communities Convener, said: "With over 225,000 visitors every year, the museum is one of Edinburgh's flagship venues.
"Its impressive collection of more than 60,000 objects reflecting childhoods from the 18th century to the present day has been recognised as of national importance by the Scottish Government, which has generously funded much of the refit through Museums Galleries Scotland grants.
"The refurbishment allows us to tell the story of childhood in new ways on the ground floor and engage young people in Edinburgh in the history of these objects and how they relate to Scotland's shared social history. "
Opened in 1955, the museum has a collection of toys, games and artefacts relating to British childhoods spread over five floors.
Objects on display range from a Fisher-Price Chatter Telephone from 1979 and a Buzz Lightyear action figure from 2000 to a cabinet of children's clothing highlighting changing fashions, with a Victorian Little Lord Fauntleroy suit, girls' corset from the early 20th century and a 1950s summer dress among the clothes on show.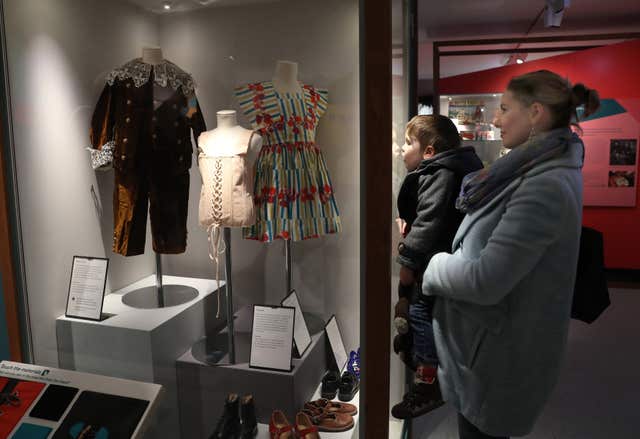 Museum of Childhood curator Lyn Stevens added: "What is childhood, when does it end, and how has it changed over the decades?
"These are the questions we asked ourselves as we delved into the city's collection of over 60,000 objects to choose 60 for the new entrance gallery.
"We hope the new space will serve as a place to reflect on these questions, and learn about key moments and turning points which have led us to where we are now and how we experience life as a child, parent and grandparent today."
The reopening of the museum on the Royal Mile is a highlight in the Scottish Government's Year of Young People 2018.
The Scottish Government supported the redevelopment with more than £95,000 in funding through Museums Galleries Scotland.
Culture Secretary Fiona Hyslop said: "Scotland has a rich cultural heritage and our many wonderful museums play a vital role in telling that story."
The refurbishment was led by Leith-based design practice Studioarc.