The Parsons Green bomber confessed to making explosives when he was arrested the day after the attack, a court heard.
Ahmed Hassan, 18, had shrugged when he was stopped by officers at the Port of Dover and asked if he had seen the news.
Questioned about who made the bomb in an emergency safety interview, Hassan replied: " I did."
On whether there were any more bombs, he said there "may be a few milligrams, traces, at my home address".
The court heard how the device was packed with enough highly unstable explosives and shrapnel to be "lethal" if it had fully detonated.
Media studies pupil Hassan allegedly used a "student of the year" prize to buy a key ingredient for explosives on Amazon and made it in the kitchen of his foster home in Sunbury, Surrey.
The Iraqi asylum seeker left 400g of homemade TATP and an assortment of nuts, bolts, screwdrivers and knives inside a bucket in a Lidl bag and timed it to blow up during the morning rush hour on September 15 last year, the Old Bailey heard.
CCTV footage showed 93 passengers duck for cover and scramble to get off the District line train when a fireball engulfed the carriage.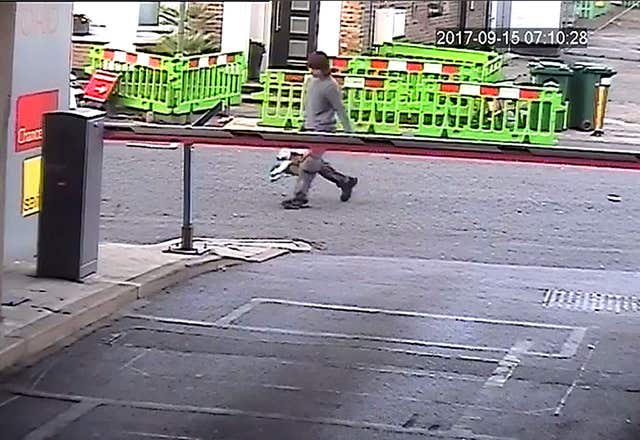 Explosives expert Sarah Wilson told jurors just one gram of the highly sensitive TATP could cause serious harm, and there were 400g in the device.
On the carnage it could have unleashed had the bomb fully detonated, she said: "400g of TATP has the potential to cause damage to property and harm or serious harm to those in closest proximity which could potentially be lethal.
"There would have been damage to the train, the infrastructure of the train, but also harm to those in closest proximity."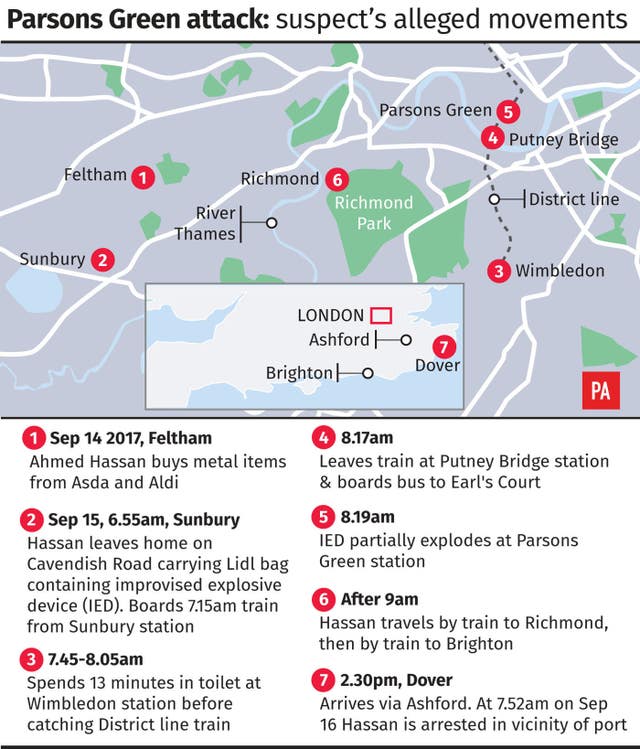 On why it failed, she said: "There may be a number of reasons why it failed to function: Was it made correctly? Was it wet? Other things – construction not quite right – a number of factors could influence why."
Prosecutor Alison Morgan asked: "Were all the elements necessary to make a viable explosive device present in that bucket?"
Ms Wilson replied: "Yes they were."
She told jurors that TATP was a "sensitive primary high explosive" which was "very unstable" and could detonate if hit or dropped as it was carried.
She said: "The addition of shrapnel or metal items in the explosive device would increase the potential of that device to cause harm or damage.
"You have the explosive which is capable of exploding but you then have a lot of small metal fragments which could also be expelled out some distance at that event."
Ms Morgan asked: "Looking at the fire wall we have seen, looking at the positioning of the device, what did you conclude happened?"
Ms Wilson replied: "It was likely to be a rapid burn rather than a detonation.
"The initiator mechanism, the battery, has functioned but the main charge had failed to function fully."
Traces of TATP were found in the kitchen of Hassan's foster home in Cavendish Road, Sunbury, including on the hob, sink and extractor fan, the court heard.
Officers searching the media student's bedroom discovered the word "bored" scrawled over back of his bedroom door over and over again.
Bags stashed behind a wicker sofa in the conservatory contained various items with Hassan's DNA on them.
A ruler and Tesco Clubcard in Hassan's name were found to have traces of TATP explosives on them.
A box of nuts, bolts and screwdrivers were also seized along with three tubes of fake blood and a blue vase, jurors heard.
A home-made video on a USB stick showed the destruction of a mobile phone in various different ways, including baking in the oven, battering with a child's toy and flushing down the toilet.
The prosecution has alleged the film, made for Hassan's media course, was "consistent" with his attempts to get rid of his mobile after the attack.
Hassan denies attempted murder and using the chemical compound TATP to cause an explosion that was likely to endanger life.
The trial was adjourned until Monday.