Fourteen people, including Iranians, have been killed in a missile attack on an air base in central Syria, a war-monitoring group reported.
Rami Abdurrahman, who leads the Britain-based Syrian Observatory for Human Rights, said most of the 14 killed were either Iranians or members of Iran-backed groups.
Syria's state-run news agency earlier reported that missiles struck the T4 air base early on Monday. It said the attack left people dead and wounded.
Although the agency said it was likely to be "an American aggression," US officials said the United States had not launched any air strikes on Syria.
The Al-Manar TV station representing Lebanon's Iran-backed Hezbollah group, which is fighting in Syria alongside the government forces, described the attack as an "Israeli aggression".
The Observatory said it was not immediately clear who was behind the attack.
Earlier, President Donald Trump promised a "big price to pay" for the weekend's suspected chemical attack.
The US launched several dozen Tomahawk cruise missiles at a Syrian air base last year after a chemical attack in the northern Syrian town of Khan Sheikhoun killed dozens of people. Israel has also struck inside Syria in recent years.
The suspected poison gas attack on Saturday on the besieged town of Douma came almost exactly a year after the US missile attack prompted by the Khan Sheikhoun deaths.
In response to the reports from Douma, Mr Trump on Sunday blamed Syrian government forces for what he called a "mindless CHEMICAL attack". In a series of tweets, Mr Trump held Russia and Iran, Syrian President Bashar Assad's chief sponsors, responsible.
The Syrian government denied the allegations, calling them fabrications.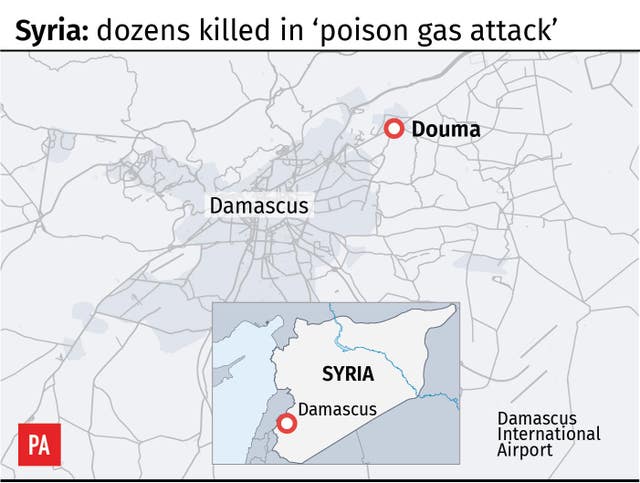 First responders entering apartments in Douma late on Saturday said they found bodies collapsed on floors, some foaming at the mouth. The opposition's Syrian Civil Defence rescue organisation said the victims appeared to have suffocated.
They did not identify the substance used, but the civil defence organisation, also known as the White Helmets, and the Syrian American Medical Society, a medical relief organisation, said survivors treated at clinics smelled strongly of chlorine.
Those reports could not be independently verified because of a government blockade around the town.