Manchester United have been hit by a setback for Antony ahead of the FA Cup final, with Erik ten Hag saying it is "unlikely" the winger will be fit to face Manchester City.
The 23-year-old winger went down in agony last Thursday during the first half of the penultimate Premier League game of the season against Chelsea.
Antony left on a stretcher and Ten Hag feared a "serious" injury, only to allay concerns three days later by saying the "first assessment is not too bad" and that he had a "good opportunity" to face City.
But this week has not gone as well as expected and the Brazil international now looks set to miss the first ever all-Manchester FA Cup final.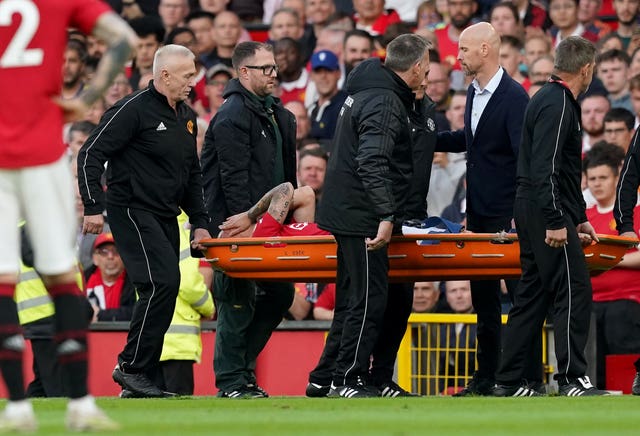 "Unlikely (he will be fit)," he said. "Dos Santos (Antony) still has a chance but it's a really small chance.
"He didn't make the progress, so he still has a chance but unlikely he is available."
Lisandro Martinez, Marcel Sabitzer and Donny van de Beek have long since been ruled out of the final, while Anthony Martial's injury-hit season will end on the sidelines.
The 27-year-old strained a hamstring towards the end of Sunday's win against Fulham and will miss the Wembley showdown after scans showed a muscle tear.
"These questions so many times about the absence of players in the last couple of months," Ten Hag said.
"Every time I say the same answer: it's about the players who are available and many times we were successful.
"We have a good squad and from that good squad we make a good team."
Absentee-hit United wrapped up third spot last weekend and are looking to complete the domestic cup double for the first time, having lifted the Carabao Cup in February.
Ten Hag says Saturday will be a "good test" against Premier League champions City, who are looking to take another step towards the treble by winning at Wembley.
United fans are desperate for their side to extinguish those dreams as Pep Guardiola's men look to replicate Sir Alex Ferguson's 1999 treble heroes.
"We want to win, we want to win a cup," Ten Hag said. "It's not about stopping them. It is about that we win, that we win the cup. We have a great opportunity.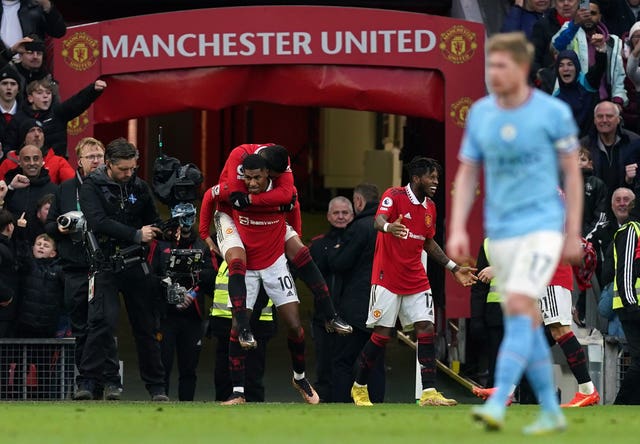 "That's great that we deserved that opportunity to be in the cup final and then meet Man City. That's a great opportunity.
"We fought so hard for it. I think we progressed that well that we are in that FA Cup final."
City won this season's first meeting 6-3 at the Etihad Stadium, with United coming back to win 2-1 at Old Trafford in January.
Ten Hag's Red Devils finished 14 points behind the Premier League winners and a big summer lies ahead as they look to launch a sustained title challenge.
"I think they do a very good job," the Dutchman said days after Ferguson named Guardiola as LMA Manager of the Year – a trophy that carries the United great's name.
"They play very good football, so they deserve it.
"Of course I look at others because they are opponents and I evaluate it, but we look to ourselves.
"You have to see where you are as club. From thereon, you have to make progress and I think we did over the last season.
"We make very good progress, we are in a good direction and now we use the coming period as well.
"Now we get the opportunity in the summer to make new targets, new goals on the short term.
"But the longer term, yeah, that will stay the same. As I said last year, we want to restore Man United but we have a way to go."