The Prime Minister is expected to axe plans for HS2 between Birmingham and Manchester.
Here the PA news agency answers 12 key questions on the situation:
– Are there doubts about Phase 1 between London and Birmingham?
The only current uncertainty is whether Old Oak Common in London's western suburbs will be the permanent terminus in the capital or whether the line will reach Euston.
– What was the plan for HS2 north of Birmingham?
In Phase 2a, the high-speed railway was due to be extended from the West Midlands to Crewe.
It was then due to be built up to Manchester in Phase 2b, and to the East Midlands in another phase.
– Where will HS2 trains run if Phases 2a and 2b are cut?
If the planned Handsacre Link in Lichfield, Staffordshire, goes ahead, HS2 trains will use it to connect between the new high-speed line and the existing West Coast Main Line (WCML).
That means they could serve stations such as Manchester, Liverpool and Glasgow.
This was always planned to happen temporarily between the completion of Phases 1 and 2b.
– So what is the problem?
One of the main reasons HS2 was designed was to remove intercity trains from the WCML, which has very little spare capacity.
This would enable more stopping services and freight trains to run on the WCML.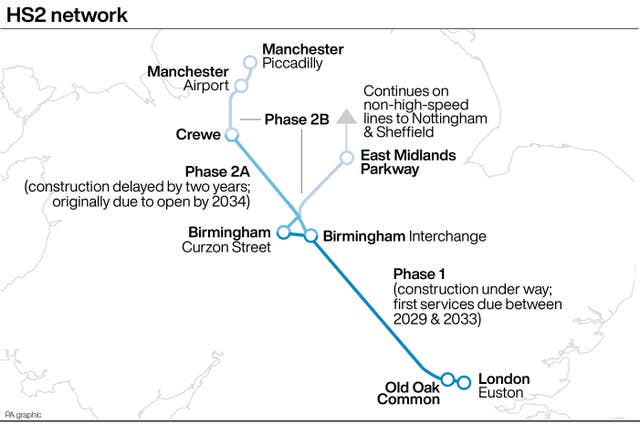 That will not happen north of Birmingham without HS2.
– Does this affect drivers?
The failure to provide more capacity for freight trains means benefits from reductions in road congestion will be lost.
– What about journey times?
Journey times between London Euston and Manchester were expected to be cut from around two hours and six minutes today to around one hour and 41 minutes under Phase 1 of HS2, although the initial London terminus will be Old Oak Common.
READ MORE: Panic stations run rife at Conservative Party conference
They were due to be slashed again to just one hour and 11 minutes once Phase 2b was completed.
For the Birmingham-Manchester route, journeys times were due to be reduced from around one hour and 26 minutes today to just 41 minutes under Phase 2b.
– Has HS2 work started north of Birmingham?
Phase 1 of HS2 includes a 19-mile section of route between Curdworth in Warwickshire and Handsacre, Staffordshire.
Some of this work has been paused since March, but much of the construction continues.
Recent examples include two bridges being installed near Lichfield, Staffordshire.
– What about Phases 2a and 2b?
Preparatory work for Phase 2a is ongoing, while some residents on the Phase 2b route have already voluntarily sold their homes to HS2 Ltd.
– How much has been spent on Phases 2a and 2b?
In an update to Parliament on June 19, rail minister Huw Merriman said £900 million had been spent on Phase 2a, and £700 million on Phase 2b.
– What is Northern Powerhouse Rail (NPR)?
It is a plan to improve east-west rail connections across the North.
– How is it linked to HS2?
NPR and HS2 were being designed so trains would run between the two networks and on to the wider railway system.
READ MORE: HS2 decision signals rail project going 'off-track'
NPR was set to rely on some infrastructure built by HS2, including for a complicated section through central Manchester.
Scrapping HS2 north of Birmingham will put the finances of NPR in doubt.
– What about rail improvements in other parts of the country?
Progress on East West Rail – a scheme to re-establish a rail link between Cambridge and Oxford – is ongoing.