Vadym Prystaiko has been sacked as Ukraine's ambassador to the UK after he publicly criticised president Volodymyr Zelensky over his "sarcasm" during a row about his demands for weapons.
A presidential order, signed by Mr Zelensky and published online on Friday, confirmed the dismissal of the Ukrainian diplomat from his posting in London.
It follows a diplomatic spat earlier this month between the UK and Ukraine, after Defence Secretary Ben Wallace said that the UK and US were "not Amazon" when it came to Kyiv's requests for weapons and military equipment.
The remarks prompted anger in Kyiv and put pressure on Downing Street amid an otherwise successful Nato summit.
The order did not say why Mr Prystaiko, in the job since since July 2020, had been sacked.
But earlier this month, Mr Prystaiko appeared to publicly criticise Mr Zelensky's remarks during the row.
Appearing on Sky News, he said: "President Zelensky's term, when he said each and every morning he'll wake up and call Ben Wallace to thank him, I don't believe this sarcasm is healthy.
"We don't have to show the Russians that we have something between us. They have to know we are working together."
Mr Prystaiko became a prominent figure in London amid the UK's response to the war, often appearing on TV and radio to outline the latest views in Kyiv while also attending various official events in Downing Street and elsewhere linked to Ukraine's war effort.
Only last Thursday, was he spotted in the royal box at the Wimbledon tennis championships.
Before taking up the diplomatic role in London, he was Ukraine's vice-prime minister for European and Euro-Atlantic integration and is also a former foreign minister.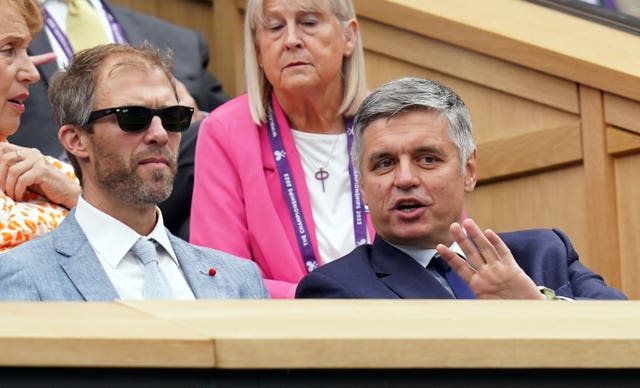 From London, Mr Prystaiko was in a key position to secure ongoing British backing for Kyiv, meeting with ministers, opposition party leaders and other influential figures as the war drags on.
The UK Government, despite the political turmoil of the last 12 months, has remained one of the most vocal advocates and allies of Kyiv – making the London posting a crucial diplomatic job.
The remarks by Mr Wallace caused a headache for Prime Minister Rishi Sunak, who distanced himself from the comments.
The Defence Secretary himself, who recently announced plans to resign at the next Cabinet reshuffle and stand down as an MP at the next election, also claimed his remarks had been "misrepresented".
He said that he had been talking about how "Ukraine sometimes needs to realise that in many countries and in some parliaments there is not such strong support as in Great Britain".
Mr Zelensky had hit back at Mr Wallace's comments, saying: "I believe that we were always grateful to United Kingdom.
"I don't know what he meant and how else we should be grateful."
Former prime minister Boris Johnson said he was "sad" to see the ambassador go.
On Twitter, he called him a "great Ukrainian ambassador and friend to this country".
"I hope he will emerge soon in another incarnation!" Mr Johnson added.