A British Army veteran who fought against the Japanese in the Burma Campaign during the Second World War has laid flowers at the tomb of the Unknown Soldier in Tokyo in a memorial ceremony to stress the importance of reconciliation.
Richard Day, 97, who survived the decisive 1944 Battle of Kohima in north-east India – where Japan fought to capture the then British-controlled territory – stood up from a wheelchair, placed a wreath of red flowers on a table, and saluted the souls of the unknown Japanese soldiers at Tokyo's Cihdorigafuchi National Cemetery.
"It was very moving, but it brought back some terrible memories," he said after the ceremony.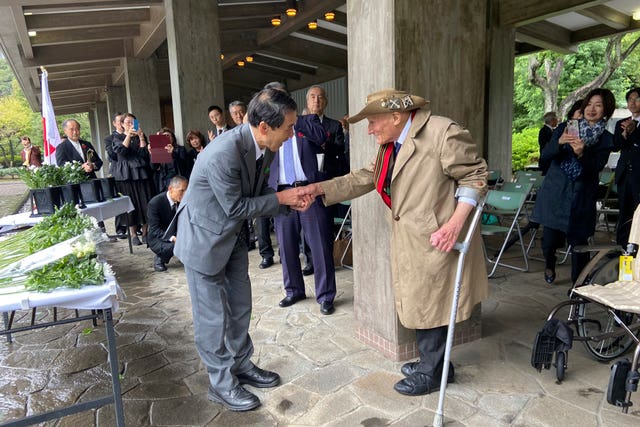 He said that when he was laying the flowers "I was remembering the screams of people … they were crying out after their mothers."
He shook hands at the memorial and later conversed with relatives of the Japanese veterans who also attended the event.
"You can't carry hate," Mr Day said. "(Otherwise) You are not hating each other, you are hurting yourself."
Mr Day was in his late teens when he was sent to the notoriously severe battle, where he also faced harsh conditions, including contracting malaria and dysentery simultaneously while fighting the Japanese.
About 160,000 Japanese were killed during the battle, many from starvation and illnesses due to insufficient supplies and planning.
Some 50,000 British and Commonwealth troops were also killed, nearly half of whom perished in brutal prison camps.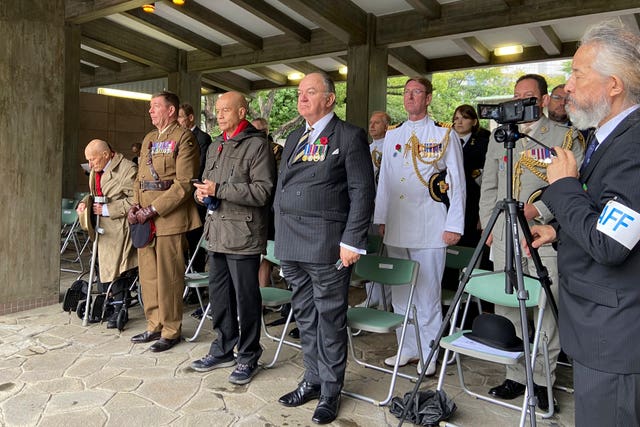 Hard feelings toward Japan's brutal treatment of prisoners of war remained in Britain years after the fighting ended.
Yukihiko Torikai, a professor of humanities and culture at Tokai University, attended on behalf of his grandfather, Tsuneo Torikai, who returned from the campaign alive after his supervisor ordered a withdrawal.
The academic shook hands with Mr Day, expressing his appreciation of the British veteran's trip to Japan.
He later said he is aware that not everyone is ready for reconciliation and that it would have been even better if a Japanese veteran who survived the battle could have been at the ceremony.
"As we foster friendship, it is important to remember the past, not just putting it behind," he said.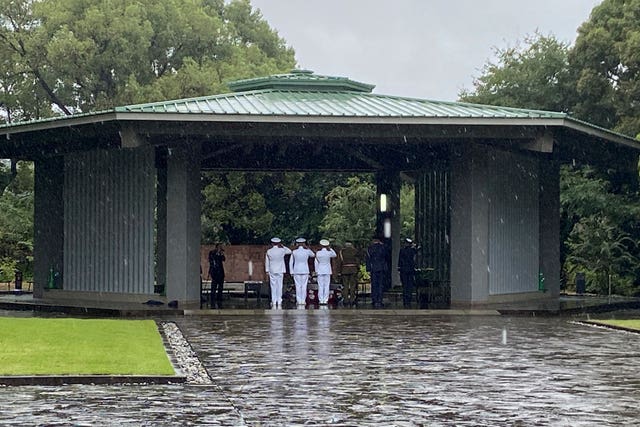 Military officials from the embassies in Tokyo of former allied countries, including the United States, New Zealand and Australia attended the ceremony.
Event organiser Akiko Macdonald, the daughter of a Japanese veteran who also survived the Battle of Kohima and now heads the London-based Burma Campaign Society, said the joint memorial in Japan for those lost in the battles of Kohima and Imphal was especially meaningful.
Mr Day was also set to visit and pray at Yokohama War Cemetery, where many of the buried were PoWs, as well as Yamagata, Hiroshima.
He also wanted to visit Kyoto to find the hotel where he stayed while on post-war duties to thank them for their hospitality.