A UK Cabinet minister has said she disagrees with Donald Trump's tweeted attack on Theresa May, but does not believe it should be allowed to detract from Britain's relationship with America and the American people.
Education Secretary Justine Greening was the first senior member of the Government to respond to the US President's message on Twitter telling the Prime Minister "don't focus on me", after Downing Street said it was wrong for him to have shared anti-Muslim videos posted online by far-right group Britain First.
In a virtually unprecedented social media rebuke by a head of state to the leader of a close ally, the US president said the Prime Minister should instead "focus on the destructive radical Islamic terrorism that is taking place within the United Kingdom".
Mr Trump caused outrage on Wednesday by retweeting three posts by Britain First's deputy leader Jayda Fransen to his 43.6 million followers, including footage from the Netherlands purporting to show a Muslim migrant attacking a man on crutches.
The Prime Minister's official spokesman said on Wednesday that Britain First was dedicated to causing division among communities and that the President had been "wrong" to share the posts. Number 10's rebuke appears to have prompted Mr Trump to lash out in a late-night tweet.
READ MORE: ANALYSIS: Trump's Tweet is the latest in long line of diplomatic gaffes
The President originally addressed the tweet to @theresamay, who has just six followers, rather than the Prime Minister's account. He later re-sent the tweet to tag the Prime Minister's correct Twitter handle.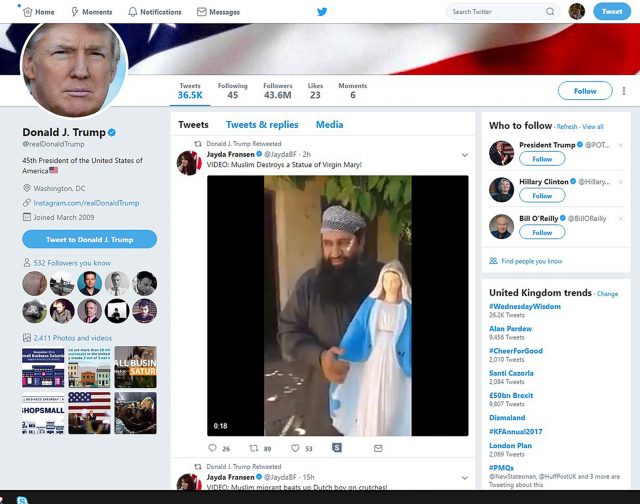 Asked about Mr Trump's comments about the Prime Minister, Ms Greening told BBC Radio 4's Today programme: "In the end, our relationship with the United States has a longevity to it that will succeed long after presidents come and go.
"I don't agree with the tweet President Trump has made, but I have to say I also believe it should not distract from the agenda we have domestically and I don't believe it should detract from the close relationship the UK has had for many, many years and will go on to have with America and the American people.
READ MORE: ANALYSIS: Trump's Tweet is the latest in long line of diplomatic gaffes
"This is a president that behaves unlike any other in the nature of the tweets he puts out. I don't believe that should be able to undermine an overall important relationship with our country."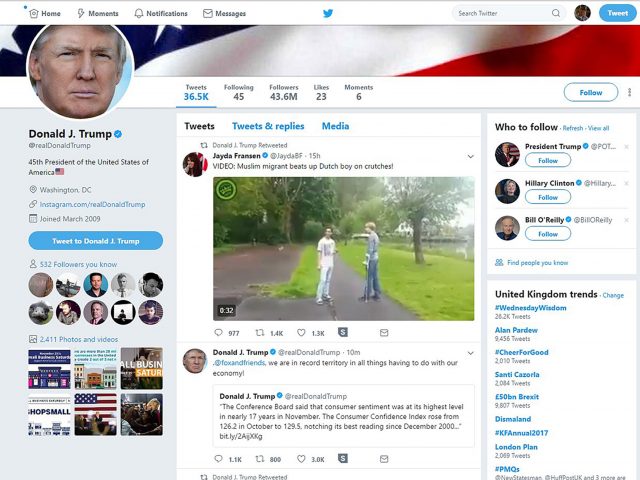 Responding to Mr Trump's comments about radical Islamism in the UK, Ms Greening said: "The reality of what is happening in the UK is that this is a country united against terrorism and extremism, that has done a huge amount of work to combat that and is broadly a country at ease with itself in relation to being a very diverse place."
In its response to the president's original tweets on Wednesday, the Prime Minister's official spokesman said: "Britain First seeks to divide communities through their use of hateful narratives which peddle lies and stoke tensions. They cause anxiety to law-abiding people.
READ MORE: ANALYSIS: Trump's Tweet is the latest in long line of diplomatic gaffes
"British people overwhelmingly reject the prejudiced rhetoric of the far-right which is the antithesis of the values that this country represents, decency, tolerance and respect.
"It is wrong for the president to have done this."
Fransen, 31, who was convicted last November of religiously aggravated harassment for hurling abuse at a Muslim woman in a hijab, welcomed Mr Trump's rebuke to the PM, tweeting: "Well said Mr President! If Theresa May expressed as much outrage at the content of my videos as she has that Donald Trump retweeted them, we'd be a lot safer."
READ MORE: ANALYSIS: Trump's Tweet is the latest in long line of diplomatic gaffes
The Britain First posts included unverified videos titled "Muslim migrant beats up Dutch boy on crutches!" and "Muslim Destroys a Statue of Virgin Mary!"
The Dutch authorities said on Wednesday that the attacker in the first video was in fact born and raised in the Netherlands.
White House spokeswoman Sarah Huckabee Sanders said the president had been seeking to "promote strong borders and strong national security".