North Korea has agreed to send a delegation to next month's Winter Olympics in South Korea, Seoul officials said.
The bitter rivals sat for rare talks at the border on Tuesday to discuss how to cooperate in Olympics and improve their long-strained ties.
The Koreas' first talks in two years were arranged after North Korea's leader Kim Jong Un recently made an abrupt push for improved ties with South Korea after a year of elevated tensions with the outside world over his expanding nuclear and missile programs.
Critics say Mr Kim may be trying to divide Seoul and Washington in a bid to weaken international pressure and sanctions on the North.
During the talks, the North Korean delegation said it would send an Olympic delegation, which includes officials, athletes, cheerleaders, journalists and others, South Korea's Vice Unification Minister Chun Hae-sung told reporters, according to media footage from the border village of Panmunjom, the venue for the talks.
The South Korean delegation, for its part, proposed North Korea send a big delegation and conduct a joint march during the February 9-25 games' opening and closing ceremonies, Mr Chun, one of the five South Korean negotiators, said.
He said South Korea also suggested resuming temporary reunions of families separated by war and offering military talks designed to reduce animosities in frontline areas.
South Korea also stressed the need to achieve denuclearisation of the Korean Peninsula, Mr Chun said.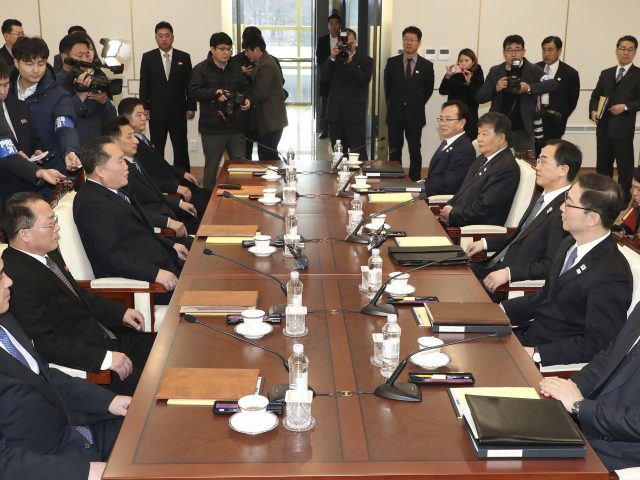 North Korea responded by saying the two Koreas must try to promote peace and reconciliation through dialogue, he said.
The two sides were to continue their negotiations later Tuesday at Panmunjom, the only place on the tense border where North and South Korean soldiers are just feet away from each other.
A North Korean soldier late last year defected to the South across Panmunjom amid a hail of bullets fired by his comrades. He was hit five times but survived.
The meeting began with an amicable atmosphere on Tuesday morning, with chief North Korean delegate Ri Son Gwon saying he hopes the talks would give "a New Year's first gift — precious results (of the talks) to the Korean nation."
Mr Ri's South Korean counterpart, Unification Minister Cho Myoung-gyon, said he also hopes they would come up with a "good gift" for people in both Koreas.
The overall prospect for the negotiations was still unclear. The two Koreas have a long history of ending key talks without any agreement and failing to follow through with rapprochement accords.