Grant Shapps has been appointed Defence Secretary in Rishi Sunak's mini-reshuffle prompted by Ben Wallace's formal resignation.
The Prime Minister handed the role overseeing British support to Ukraine during its resistance against the Russian invasion to the energy secretary on Thursday.
Mr Shapps has never held a role in the Ministry of Defence before but is taking on his fifth role in the Cabinet in the last year by becoming its Secretary of State.
His appointment has sparked a reshuffle of the cabinet, with Education minister Claire Coutinho moving from her current role to take up the Secretary of State for Energy Security and Net Zero post. 
Tory MP David Johnston has been appointed parliamentary under secretary of state at the Department for Education, replacing Ms Coutinho.
Mr Shapps said he was "honoured" to take on the role "continuing the UK's support for Ukraine in their fight against Putin's barbaric invasion".
In Westminster, Mr Shapps is seen as an effective communicator and will be key for Mr Sunak as he leads the Tories towards a general election, expected next year.
---
READ MORE: Ben Wallace quits Government 
---
Mr Wallace confirmed his departure as defence secretary on Thursday morning after announcing last month that he would bring an end to his four years in the job.
In a letter to the Prime Minister, Mr Wallace said: "The Ministry of Defence is back on the path to being once again world class with world-class people.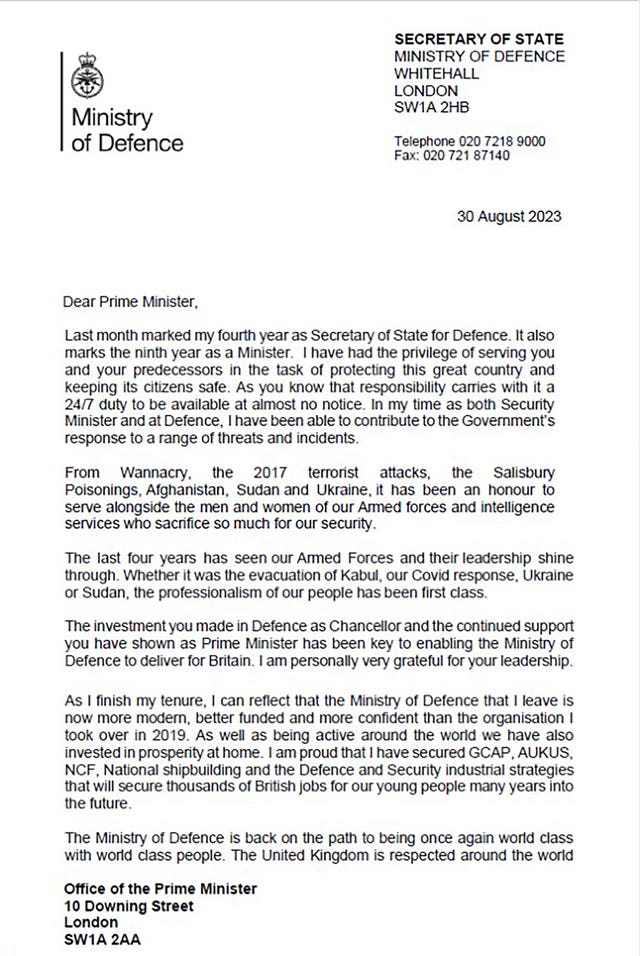 "The United Kingdom is respected around the world for our armed forces and that respect has only grown more since the war in Ukraine.
---
READ MORE: Ben Wallace in line to replace Jens Stoltenberg at Nato
---
"I know you agree with me that we must not return to the days where defence was viewed as a discretionary spend by Government and savings were achieved by hollowing out."
Mr Sunak had been expected to launch a full reshuffle ahead of the Tory party conference in October but now appears to be holding off on the more wide-ranging move.
Shadow attorney general Emily Thornberry said the reshuffle is just "moving the deckchairs" and the Government is still a "sinking ship".
Speaking to broadcasters in Westminster, she said: "It really doesn't matter how many new jobs Rishi Sunak gives to his friends.
"It's still just moving the deckchairs. They're still a sinking ship."
Ms Thornberry said she believes Grant Shapps is a "talented politician" and hopes he listens to the "experts in the MoD (Ministry of Defence)".
"I think that Grant Shapps is a talented politician, I wish him well, and I hope he listens to the advice of the experts who will be in the MoD," she told broadcasters.