Individuals found to have committed human rights abuses will be unable to be an owner or director of a Premier League club under new rules approved by the English top flight on Thursday.
Human rights abuses, based on the Global Human Rights Sanctions Regulations 2020, will now be one of a number of additional "disqualifying events" under a beefed-up owners' and directors' test (OADT).
The league also now has the power to block people from becoming directors where they are under investigation for conduct that would result in a "disqualifying event" if proven.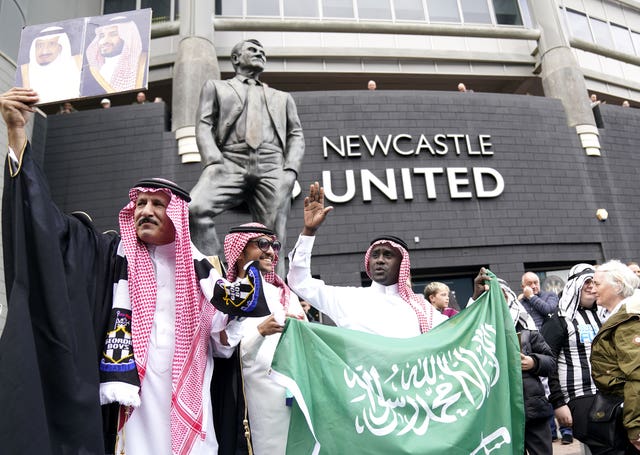 The Premier League has faced strong criticism in the past from Amnesty International in particular for allowing Saudi Arabia's Public Investment Fund (PIF) to lead a takeover of Newcastle, despite the country's appalling human rights record.
Under the new rules approved by clubs on Thursday, a person or a company being subject to Government sanctions is now also a disqualifying event, while the range of criminal offences which could result in disqualification has been extended to include offences involving violence, corruption, fraud, tax evasion and hate crimes.
The league has also voted to widen the group of regulatory authorities where an existing suspension would result in disqualification, to now include the Charity Commission, the Financial Conduct Authority, the Prudential Conduct Authority and HMRC.
The league's moves to strengthen its test come at a time when a Government white paper on football governance is proposing that a new independent regulator would set an "enhanced" owners' and directors' test, which would be intended to replace the tests used by the Premier League, the Football Association and the EFL.
Decisions taken by the Premier League board under the new OADT will now be subject to review by a new, independent oversight panel.
The threshold for 'control' has been lowered to 25 per cent, from 30 per cent, and club chief executives will now be brought within the OADT's scope.
The new process should also be more transparent. The league says a list of agreed 'acquisition materials' – information required by the Premier League in order for it to complete its due diligence – will be published as part of a takeover process.
Additional annual due diligence will be conducted on existing club directors to ensure ongoing compliance with OADT. The league is also committed to publishing the names of individuals or companies who have been disqualified under the OADT and to create an annual compliance report.
Amnesty International UK's economic affairs director Peter Frankental said it was "a step in the right direction" but added: "It'll make little difference unless powerful individuals linked to serious human rights violations overseas are definitively barred from taking control of Premier League clubs and using them for state sportswashing.
"Would, for instance, a future bid involving Saudi or Qatari sovereign wealth funds be blocked by this rule change? It's far from clear that they would.
"Merely checking whether people are on an existing UK sanctions list is a very low bar, and the sanctions list reflects the Government's foreign policy priorities rather than any objective assessment of human rights issues.
"Nearly three years ago we proposed a detailed new human rights-compliant test that would prohibit football ownership where individuals were complicit in acts of torture, slavery, human trafficking and war crimes.
"The acid test of whether this new rule is fit for purpose is whether it would involve serious efforts to assess the involvement of prospective buyers in human rights abuses.
"The Premier League needs to adopt an active screening process and not just outsource its due diligence to others.
"Top-flight English football still risks becoming the sportswashing toy of authoritarian figures around the world unless the Premier League gets this right."