Katie Archibald inspired Great Britain to an emotional women's team pursuit victory at the UCI Cycling World Championships in Glasgow on Saturday night.
Archibald joined up with Elinor Barker, Josie Knight and Anna Morris to beat New Zealand to gold in a time of four minutes 8.771 seconds, four and a half seconds up on their rivals, to give Britain a first world title in this event since 2014.
It was a fifth world title for Archibald, but perhaps the most significant. She has come into these championships, in her home velodrome, still grieving the death of her partner Rab Wardell, who suffered a cardiac arrest as he lay in bed at home a year ago.
Archibald had said she was determined to honour Wardell this week, and she surely did so with a powerful ride that belied a difficult build-up and helped make the difference in the final.
New Zealand were ahead on the time splits for much of the opening 1,500 metres, but a big turn from Knight nudged Britain in front before the midway point.
Archibald then put on the power to open up a two-second advantage before pulling off with a kilometre still to go, the result all but beyond doubt.
Archibald and Barker were both part of the team when Britain last won the women's team pursuit world title nine years ago. They went on to Olympic glory in Rio before taking silver in Tokyo, but the rainbow jerseys in this flagship event eluded them.
"It is all coming out, this is the event," Archibald said on BBC Sport. "Someone was talking about imposter syndrome the other day and you almost have it the other way round, we almost see ourselves as the best in the world.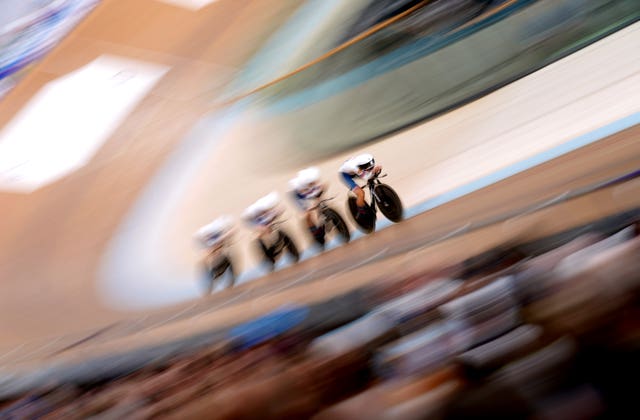 "But we have not been on the top step since 2014, so to have that feeling validated, it feels good!"
Knight, who is Archibald's housemate in Manchester, called her friend "phenomenal".
"I see her ups and downs every day," she said. "She's had a really tough couple of weeks. I know her prep hasn't been quite what she would have wanted. Usually she's the real hero of this team. We've had to adapt and I've tried to step up, take that role on.
"But she is phenomenal. We all stepped up. And we're world champions."
Barker, who has shared so many moments with Archibald including Olympic gold in Rio, added: "Katie's unbelievable. It's really hard to summarise the year that she has had, how she feels about it, how we feel about it.
"Just the fact that she is here, it's insane. I don't really know how she does it to be honest."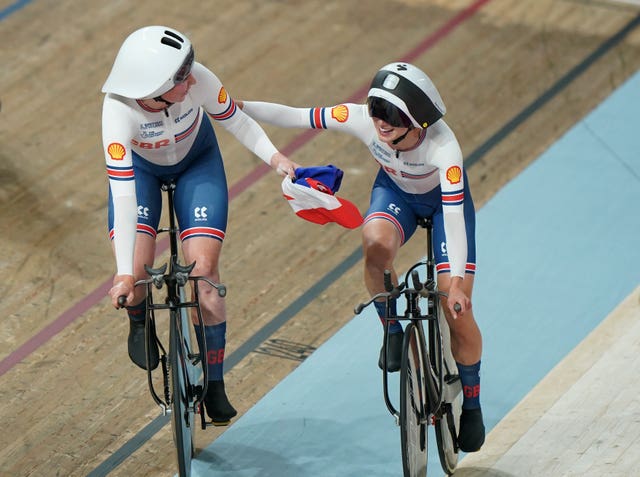 This is Barker's first global track event since she became a mother after the last Olympics, and an extra special one as she was able to share the moment with sister Meg – who rode in Saturday morning's first round – and Morris, who was in the same year as her at Llanishen High School in Cardiff.
Meg Barker had ridden the opening qualifier in place of Archibald, who is saving some of her energies for Sunday's elimination race and the omnium in the coming days, a change to the original plan – with Elinor Barker now joining Neah Evans in Monday's Madison.
In the men's team pursuit, Denmark beat Italy to take the world title in a time of three minutes 45.161 seconds, two years to the day since Italy beat Denmark to gold at the Tokyo Olympics.
There were more gold medals for Britain's para-cyclists. Sam Ruddock successfully defended his men's C1 kilo title before Blaine Hunt took the C5 crown, with Jaco van Gass then beating team-mate Fin Graham to win the men's C3 scratch race and his second rainbow jersey in as many days.