South Africa's victory over New Zealand in the World Cup final was forged in their national psyche, according to some of the stars of their successful title defence.
Hosts France, England and the All Blacks each fell by a single point to a Springboks side who do not know when they are beaten, establishing them as rugby's ultimate knockout specialists.
New Zealand overcame the red card shown to their captain Sam Cane for a dangerous tackle to take an enthralling final to the wire and even had opportunities to snatch South Africa's crown.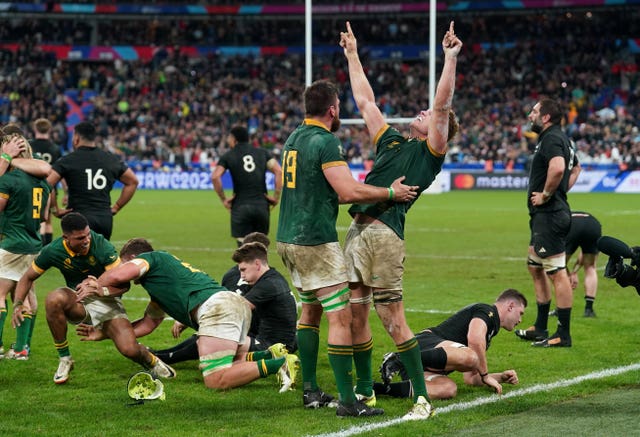 But the repeat champions – now the most successful nation in men's World Cup history with four titles – defended magnificently to ensure they they will return home on Tuesday as heroes.
Prop Ox Nche, the destroyer of England's scrum in the semi-final, said: "It shows our resilience. In South Africa that's what we are made of.
"When you think we are down that's when we come out and shock you and show you that we can achieve anything.
"I don't know how to describe this feeling – it is a feeling that is out of this world. If we stay united we can achieve anything. That's what it means to me."
Victory was made possible by four first-half Handre Pollard penalties that saw the fly-half – who was only an injury call up to the squad in mid-September – finish the World Cup with a 100 per cent kicking record.
"This team has a never-say-die attitude. The second half was more containment and limiting the damage. Even though they scored, we limited them to five points," Pollard said.
It can now be argued that a South Africa team that has amassed back-to-back world titles and defeated the Lions in 2021 is the greatest of all time and there is no question they lifted the Webb Ellis Trophy the hard way.
Full-back Damian Willemse is delighted to have triumphed on behalf of a nation that is besieged by problems.
"We do it for the people of South Africa. We do it for each other. We do it for our families. People don't really have the money but they have made their way here to support us," Willemse said.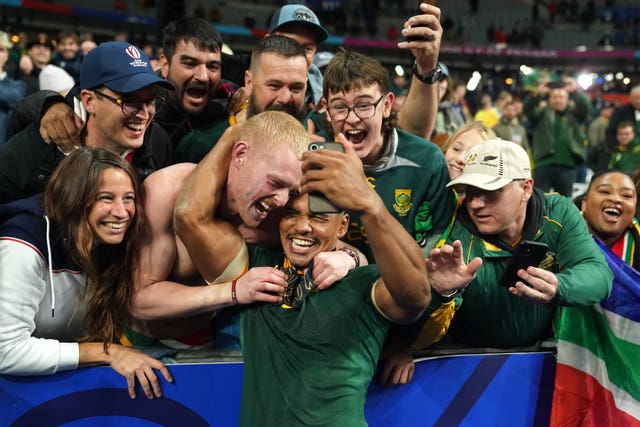 "I'm really proud of everyone for putting their bodies on the line and sacrificing themselves.
"That is what we have to do to win a World Cup. It is really special to be part of it. I am just really proud to be South African.
"We knew it was going to take a massive effort to beat the All Blacks. They are a great team who have been in great form these past few weeks.
"The red card did change the game from a technical point of view, but we knew the All Blacks weren't going to die."