Eddie Jones said he wanted to continue as head coach of Australia and has not had a job offer from Japan after his resignation was confirmed.
Rugby Australia chief executive Phil Waugh said they had reached a "sensible" agreement with the former England coach as his nine months in the job came to an end.
Speaking to Channel 9 in Australia, Jones said he "never" had a job offer from Japan and criticised media reports of an interview ahead of a World Cup campaign which saw Australia crash out in the group stages.
"I've got no job to go to, no job offer," he said. "My commitment to Australian rugby has been 100%. I did want to go on. Coaching a team is a bit like being in a marriage, you need commitment from both sides.
"I was committed to change the team. Rugby Australia at the moment cannot activate the changes, financial and political, to make real change in Australian rugby."
He continued: "I don't like to be in projects where I don't think they can really get to where they need to get to and I've made that decision.
"Rugby Australia probably doesn't think that and that's where the unity of our project is not in the place it needs to be.
"Sometimes you go in the bank and blow it up but you don't come out with the money."
Former Wallabies flanker Waugh said he "took Eddie on his word" when he denied reports linking him with Japan.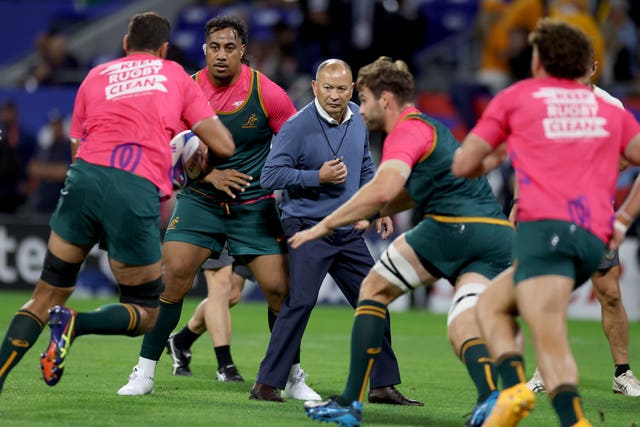 Talking to a press conference in Sydney, Waugh said: "Our focus will be reconnecting with the Australian public rather than where Eddie's going to be.
"We've come to a sensible conclusion, both for Eddie and for Rugby Australia.
"I don't think it changes the position we're at now, whether Eddie was to stay or go.
"This is hopefully a low point and a chance to reset. The most important thing is to unite."
Jones will officially leave his role on November 25 and Waugh said Rugby Australia would take "however long it takes" to ensure they got the "best possible coach".
He refused to be drawn on the position of chairman Hamish McLennan, who has faced criticism for replacing Dave Rennie with Jones on a five-year deal in January – weeks after he had been dismissed by England.
"Ultimately the board is responsible for this decision," he said. "It's speculation where we would have been if we had not made that call and Dave had stayed on.
"The results were not up to expectation. The board has made some bold calls. Hindsight is a wonderful thing… where we ended up was not good enough."
Rugby Australia earlier confirmed Jones' resignation as head coach following the Wallabies' failure to reach the knockout stages of the World Cup for the first time.
"Rugby Australia can confirm that it has accepted the resignation of Wallabies head coach Eddie Jones, and he will depart the position on 25 November 2023," a statement from the governing body read.
"Rugby Australia thanks Eddie for his commitment to the Wallabies in 2023, and wishes him the best in his future endeavours.
"Announcements regarding the future of the Wallabies coaching staff will be made in due course."
McLennan had already vowed to continue in his role, telling the Sydney Morning Herald in a statement: "I came to rugby to find a way to fix it when it all fell over and despite the sad Eddie situation, this is another hurdle we'll overcome.
"I want to stay to deliver the 2027 World Cup in Australia. That has always been the big prize for Australian rugby.
"More destabilisation will just make matters worse, just when we're about to break through. Life is not a continuous line of perfect calls and success."
Jones won just two of nine Tests in charge against Georgia and Portugal in the World Cup where they suffered losses to Fiji and Wales.